Hints to fellow Garden Club members that her 'flower garden' is now off limits to the Governor
MADISON — Wisconsin Governor Scott Walker is a little 'blue' these days since his wife decided to take a stand against her husband's continuing attack on women's rights.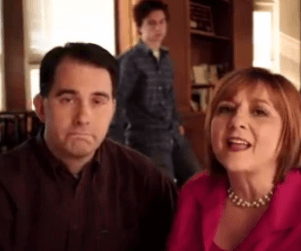 At the annual Maple Bluff Garden Club meeting on Friday, the first lady of Wisconsin told her close friends that certain actions by her husband of late—well actually, every since she's known him—have finally pushed her over the edge.
Tonette Walker, or 'Toni' as she's known throughout the local social scene, hinted to fellow Garden Club members that her 'flower garden' is off limits to her husband until he gets a clue as to how important women's rights are in this country.
Toni claims it is the first time she's ever taken a stand against her husband — and she never thought she'd resort to withholding sex — but, after noting the underhanded way Walker secretly signed a bill into law which would strip women of their right to equal pay, she realized he could do the same to her if they ever divorced.
"Why, he could be squirreling money away right now as we speak, and I'd never know about it," said Toni, who added tearfully "It's not all roses living with a political heavyweight," as she dabbed at her eyes with a tissue.
Ironically, the same day the Governor signed the bill to repeal the 2009 Equal Pay Enforcement Act, he also signed into law a bill requiring schools that teach sex education to stress abstinence, not contraceptives, as the only way to prevent pregnancy and sexually transmitted diseases.
The following two tabs change content below.
P. Beckert's is one voice vying for frequency room at the top of the opinion dial. Angered and bewildered by many of today's events, P. Beckert uses humor as a tool to fight an onslaught of stupidity and ignorance that seems to permeate the airwaves and pollute the sensitivities of a once-brilliant nation. If you like her posts, become a follower and leave a comment. And don't forget to share on Facebook, Twitter and other social accounts! Syndicated from her
I Said Laugh, Dammit
blog.
Latest posts by P. Beckert (see all)