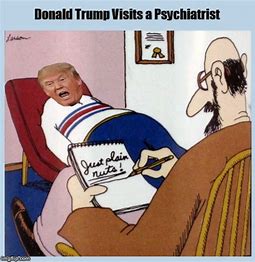 25th Amendment Follies: Otherwise known as… 'Nut Watch'!
'They say' Donald Trump will never sit down for a psychological evaluation that produces an official diagnosis – but they are so wrong!
I just happened to find the Transcript on eBay that proves Trump was secretly on the Therapist's couch…
DR. BOB FREUD
No, Donald – on your back!
TRUMP
Do I have to go way back to my childhood?
DR. BOB
No, all of last week would be fine!
TRUMP
You mean the Hurricane/Nuke thing, the Holy Water on-the-lawn thing or 'I wrote the 10 Commandments for Moses as my To-Do List'?
DR. BOB
No, at the G7 Conference – you slipped Germany's Angela Merkel a Roofie!
TRUMP
She came on to me – what could I do?
TRUMP
C'mon – let's save us both & blame my Mother…& Obama!
DR. BOB
You know, personally – I think you're in perfect mental health!
TRUMP
You do?
DR. BOB
No, I'm just kidding – see how that feels?
DR. BOB
Don't you think you should resign & do something good for America?
TRUMP
No – I'm on a roll!
DR. BOB
Who in the world told you that?
TRUMP
Putin!
DR. BOB
I bet he has a Shrink.
TRUMP
I will say this, I don't see any reason why he would see one. I mean…wouldn't.
DR. BOB
Time for a little Free Association – I throw out a word & you tell me the first thing that comes into your head…
IVANKA – Date!
JUNIOR – Like his Mother!
ERIC – Like the Milkman!
PARDONS – Want one?
MISSILES – Boom!
WINDMILLS – Cancer!
GREENLAND – Dead to me!
MUELLER – Stale Beer!
EPSTEIN – Who?
MITCH – Angel!
BARR – Brilliant!
MOTHER TERESA – Cheats at Golf!
LOOPHOLES – Aphrodisiacs!
MATTIS, McMASTER & KELLY – Law Firm?
And…
THE 25th AMENDMENT – Feet, don't fail me now!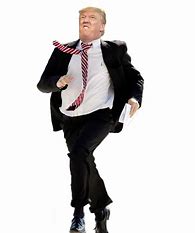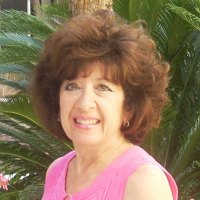 Latest posts by Marilyn Sands
(see all)