Wherein our intrepid talk radio host interviews Senator Bernie Sanders and former New York City Mayor and Trump Attorney Rudy Giuliani.
ANNOUNCER
Live from under a rock in your backyard, it's The Jerry Duncan Show.
JERRY
Good morning listeners nationwide. Is it a good morning? We'll soon find out. Today on the show my guests are Senator Bernie Sanders and former New York City Mayor and Trump Attorney Rudy Giuliani.
SENATOR BERNIE SANDERS
I can't believe that I'm in the same room with this psycho putz.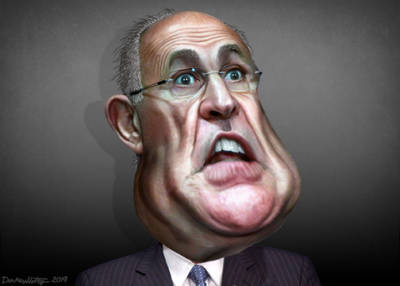 RUDY GIULIANI
Why? Just because I was planning to go to the Ukraine to get dirt on Joe Biden?
SANDERS
Bingo! It's treason.
GIULIANI
So is your hair.
SANDERS
I get a lot of cracks about my hair, mostly from men like you who don't have any.
GIULIANI
That's neither hair nor there.
JERRY
Speaking of hair. My blind date last night was so ugly that when I bent down to pet her cat, it turned out to be the hair on her legs.
JERRY
Moving on. Bernie, you're behind Joe Biden and Elizabeth Warren in the polls to be the Democratic presidential nominee in 2020. How do you turn those numbers around in your favor?
SANDERS
By appealing to young people. Medicare for all, free college tuition and legalized pot.
GIULIANI
People that smoke pot go brain dead.
SANDERS
Name one.
GIULIANI
Bill Maher.
SANDERS
Unlike your client Donald Trump, Bill is the real stable genius. He smokes dope. You work for one.
JERRY
Rudster. Who are you dating these days?
GIULIANI
I'm not dating. Still trying to deal with my ex-wife.
JERRY
Which one?
GIULIANI
Judith Nathan. She's trying to claim my six homes. I could lose everything.
SANDERS
Could get worse. You already lost your mind.
JERRY
What are the two times a man doesn't understand a woman?
GIULIANI
Tell me after three failed marriages, Dr. Phil. Oops, wrong show.
JERRY
Before marriage and after marriage.
SANDERS
After watching Dr. Phil, I want to change my name to Berniece Sanders.
GIULIANI
Phil is a genius. Last week he got to the bottom of the developmental difference between Trump and a caveman.
JERRY
There is no difference.
GIULIANI
Exactly.
JERRY
A few months ago, I ran into Dr. Phil at a convention. I asked him. "Can you help me save my sick hamster?" He said, "I'm not really a doctor." I said, "I know. Just wanted to hear you say it."
JERRY
Rudster. How is Trump going to win in 2020?
GIULIANI
I can't reveal secrets. Let's just say I have a few trips planned to Russia.
SANDERS
Treason! Russian hacking, blots, a disinformation campaign, voter suppression.
GIULIANI
And a partridge in a pear tree.
JERRY
You old fools should bury the hatchet. Go over to Morrie's Deli and enjoy a meal together. They make the best matzo balls.
GIULIANI
I've tasted better tennis balls.
SANDERS
Then what do you have in mind, Mr. Smarty?
GIULIANI
Guido's Deli. Ottimo cibo. Very good food.
SANDERS
Right. The last person that complained about The Hit Man sandwich was found floating in the East River.
JERRY
I'm from Alaska. Try plant roots dipped in caribou dung.
SANDERS
You just hit a nerve. Blargh. Get me a barf bag. Blargh…blargh.
GIULIANI
Oh man, he's contagious. Blargh…blargh…blargh.
JERRY
You barfed on my new shoes, Rudster. See you tomorrow everyone.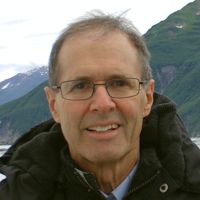 Latest posts by Dean Kaner
(see all)