Wherein our intrepid talk radio show host interviews First Ladies Melania Trump and Michelle Obama. 
MELANIA TRUMP
Live from under rock in backyard, it's The Jerry Duncan Show. Is good day?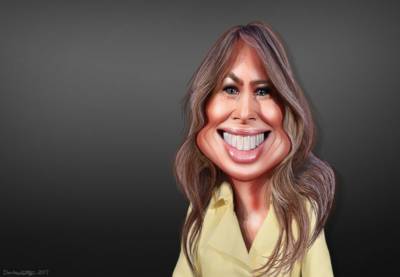 JERRY
Give me that microphone, you idiot. And no, the day sucks!
JERRY
My guests today are First Ladies Melania Trump and Michelle Obama. Hey, Michelle. You've put on a few pounds since you left the White House. What happened?
MICHELLE OBAMA
I realized junk food rules the day. You don't think I really believed all that nonsense I said about healthy foods for kids. I love a juicy double double hamburger that I can down with a thick strawberry shake. Nachos that overflow with melted cheese. Chocolate bon bons that I inhale like M&M's.
MELANIA
She play Ollie in Stan & Ollie movie. No?
MICHELLE
Burp. Excuse me. I just ate four eggs over easy and 10 slices of bacon for breakfast. I don't need to hear your snide remark.
MELANIA
Don't piss off. I slap so hard, even Google won't find you.
JERRY
Melania. What's it like living with Donald Trump?
MELANIA
He not what you think.
MICHELLE
He's worse, girlfriend.
MELANIA
How you know?
MICHELLE
My husband has been insulted by him for five years. I'll never forget when The Donald said Barack was born in Kenya.
MELANIA
I feel sorry for you husband. Donald always forget to take meds. He have mental problem. I worry he nuke California.
JERRY
How do you feel about the impeachment inquiry by the House? Does that worry you?
MELANIA
No. If husband get impeached, I make move on Canadian Prime Minister Justin Trudeau. He sexy.
JERRY
Michelle, you've sold 8 million copies of your autobiography Becoming. What are you going to do with all that money?
MICHELLE
I don't know, Duncan. Money isn't everything.
JERRY
But it certainly keeps you in touch with your children. Right Sasha and Malia? Wherever you are.
MICHELLE
I have a question for the First Lady.
MELANIA
You a bully. I don't like bully.
MICHELLE
Your husband is a bully. You're a hypocrite.
MELANIA
No. You the hippopotamus.
JERRY
Who left the bag of idiots open? Both of you need to stop the war of words. Melania, tell me something about your youth.
MELANIA
I from Slovenia. Decide to be model in Europe then move to New York City. Marry Trumpster and bring parents here.
JERRY
Trump is against chain migration. What makes you the exception?
MELANIA
I beautiful.
JERRY
Can I have your picture so I can show Santa what I want for Christmas?
JERRY
What's your story Michelle?
MICHELLE
I grew up poor on the South Side of Chicago.
JERRY
(sings Jim Croce song Bad Bad Leroy Brown)
Is the baddest part of town
And if you go down there
You better just beware
Of a man named Leroy Brown.
MICHELLE
I knew gangstas like Leroy Brown. But they didn't scare me. Despite not having money, I became a successful corporate attorney.
MELANIA
My husband have gangster name.
JERRY
What it it?
MELANIA
Donny small hands.
JERRY
Please continue, Michelle.
MICHELLE
I met Barack when he interned at my law firm in Chicago. It was perfect timing. I had just broken up with a guy who had a lazy eye. It turned out he was seeing someone on the side.
JERRY
Thank you, ladies. This was inspirational. Not. See you tomorrow everyone.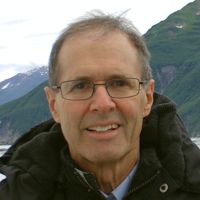 Latest posts by Dean Kaner
(see all)