'If they don't like it, they can suck on this!' said Nugent, holding his trademark machine gun

Mitt Romney shocked political pundits everywhere when he named Ted Nugent as his running mate today, at a NRA rally in St. Louis. The presumed Republican presidential nominee promised "a new day and a new way in Washington," as he spoke at the follow-up event to the annual NRA meeting held there.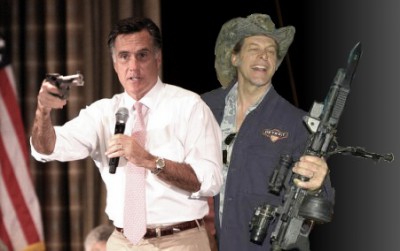 "My Enforcer, Ted Nugent will add some real muscle to a Romney administration, helping to get my agenda passed unmolested. Congressmen on either side will have to think twice about coming under fire from this guy — metaphorically speaking, of course," winked Romney to loud cheers from the rowdy pro-gun crowd.
"And to those who will say I'm bringing Ted aboard just to cement the support of the rabid right-wing Tea Party base, I say, talk to the hand!" Romney added, waving a pistol.
"I'm going to Washington, so get used to it!" Nugent shouted after Romney made announcement. "All you phony lefty traitors, watch out! The Nuge is here, so quake in fear!"
"We're going to get every single one of my man Mitt's initiatives passed, or there will be hell to pay up on the hill," he said. "Unless he tries to sneak one by me, like something helping those damn Mormons. Then ol' Willard better watch his back!"
Asked about his rhetoric at the NRA meeting, which seemed to threaten Obama and other Democrats, Nugent responded, "I say a lot of stuff some people think sounds threatening, but I'm not really telling all my gun-toting followers to attack liberals."
"Or am I?" he added, winking.
"I'm not like those America-hating lefties, I love this country, I just hate the half that votes Democrat. Those vile, evil, sub-human scoundrels should be shot. And that's what I love about freedom, you're free to agree with me or get a hole in the head."
"Hey, I've been cleared by the Secret Service," Nugent said. Those guys are my bros, like our fighting men overseas. I just wish I could've gone to Vietnam, but I had important musical work to do, and groupies to satisfy. That was my sacrifice for America. You're welcome."
"Americans should know that having Ted on the team will save taxpayers money. He'll be packing enough heat to replace ten Secret Service agents," said Matt Rhoades, Romney's campaign manager.
"And he has no problem getting all the action he wants from groupies, he won't be causing problems there," he added, referring to the recent Secret Service sex scandal.
"Our challenge now is to show the world the real Ted Nugent," said Rhoades. "Most people don't know his soft side: when he's not shredding guitar leads and waving guns around in front of his redneck fans, Ted can be found on relaxing on his ranch, riding his jet ski around the lake while shooting baby ducks out of the water, or rampaging through the National Forest on his Humvee. You know, down time."
"There is no truth to the rumor that Nugent will simply be there to scare the bejesus out of Obama," Rhoades added. "While it's true that we'll be sending him out to the president's campaign rallies — along with all his wild-eyed, gun-toting friends — it's only a little campaign stunt of our own, you know, for the publicity."
"If Obama's namby-pamby, weak-kneed, pinko liberal fans get scared and stay away in droves, well, we can't help that, now can we?" he added with a grin.
Looking ahead, Romney said there were many benefits to having a rocker like Nugent in the White House. "I can't wait to entertain distinguished guests at concerts there, with Teddy banging out 'Cat Scratch Fever' on guitar and Mike Huckabee holding down the bass. And of course, everyone knows I can sing, after wowing them with my stirring rendition 'America the Beautiful' all these months on the campaign trail. Naturally, Herman Cain, who will be my Treasury Secretary, will bring the pizza."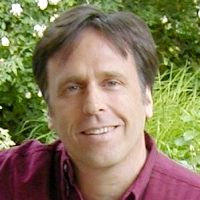 Latest posts by James Israel
(see all)