Donna Summer died Friday, saddening Baby Boomers who danced at discos to her songs in the Seventies. What an era. Every night we'd wave our arms and sway to the red, white and blue flashing lights, and that was just the sobriety test on the way home.
The Census Bureau reported Friday that half of U.S. babies belong to a minority group. The news is huge. Democrats called it the end of white rule in America and Republicans sent a memo to private schools urging them to add British Rule in India to the civics curriculum.
Facebook began selling its stock at thirty-eight dollars per share Friday in FB's debut on Wall Street. It has replaced family as many people's top concern. Last year seven congressmen and five governors resigned so that they could spend more time on Facebook.
New York's Friars Club roasted Hot in Cleveland star Betty White Wednesday. She's ninety years old and a great role model. When Betty White tells young actresses that she once did Shakespeare they simply assume she means she slept with him to get the part.
John Edwards's trial went to the jury in Raleigh Friday to decide if he used campaign funds to hide a pregnant mistress from his dying wife. He remains optimistic. In a last ditch effort to win over the North Carolina jury, John Edwards changed his plea to Not Gay.
Robert Downey Jr. got a fifty million dollar payout for The Avengers Friday. Like President Obama, he has evolved. Early in his career he was a liberal, after Iron Man he became a moderate, and as soon as his check for the Avengers cleared, he came out for states' rights and the flat tax.
President Obama ordered prisons to step up measures to put an end to prison rapes Thursday. Politicians are such flip-floppers. Just last week Barack Obama was on the cover of Newsweek as the first gay president and now he's trying to keep couples apart.
President Obama arrived at ABC studios in New York Tuesday for an appearance on The View. The president's security team wasn't intrusive at all. The head of the Secret Service looked closely at the women on the show and gave the chaperones the morning off.
Senator Chuck Schumer was enraged Friday at rich people who are renouncing their U.S. citizenship rather than pay taxes. He introduced a bill that would double their capital gains taxes if they leave. Facebook's IPO on Friday created one thousand millionaires in the company, and they feel a little silly being twenty-six years old and grounded.
Mexico cartels were found using illegal aliens to farm pot on L.A. hillsides Friday. Just keep them here in town. With the Trayvon Martin verdict and a presidential election coming up, we are going to need every illegal alien we can find to help re-build Los Angeles.
Iran threatened to sue Google Maps for taking the map label off the Persian Gulf because Sunni Arabs demand that it be called the Arabian Gulf. Such is life. A year ago Google executives became instantly rich and now they're just hoping they anger the side with the swiftest beheading ceremony.
Reverend Jeremiah Wright went on Fox News Thursday to confirm that the Obama campaign four years ago offered him one hundred and fifty thousand dollars to stop preaching for a year. That's the funniest thing he ever heard. Jeremiah Wright has got souls to save, and he makes a hundred and fifty grand per revival.
Staples Center hosts a huge cycling race before thousands of cycling fans in L.A. this morning. Mid-day it hosts a hockey playoff game, followed by the Lakers tonight. Staples must keep the bottled water for the cycling fans away from Canadian beer for the hockey fans, because if you mix them together you'll leave the Lakers fans with nothing but Coors.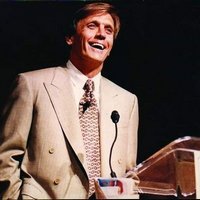 Latest posts by Argus Hamilton
(see all)