Hello folks. How are things going for you?
That's good.
At the moment I am hold up in an abandoned farmhouse in the Midwest.
I have it boarded up and sealed off as much as possible.
I don't do this normally. It's just that present conditions demand it.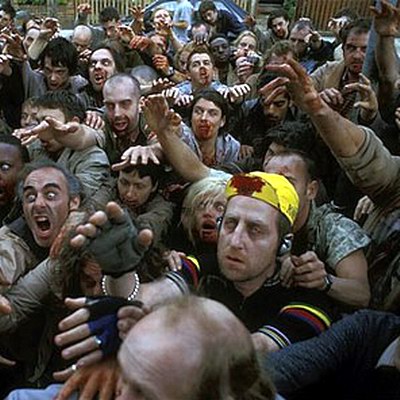 (Crashing sounds coming from background) "Aaaaaarrrrhhhh! !!!!! Grrrr!!!!"
Excuse me a moment please. "DIE, CREATURE FROM HELL!!!!!! EAT THIS TIRE WRENCH!!!!!!!"
(Crunch! Smash! Hurt!)
Ok, I'm back now.
The radio and television are out.
I'm just glad the Internet is still going. At least there is some connection with the outside world.
At least it seems like there is some outside world.
(More crashing sounds) "Errrrrrr!!!!!! Graaaaahhhhhhh!!!!!!!"
I'll be right back. "GET OUT YOU SATAN'S SPAWN!!!!! TASTE MY SHOTGUN PELLETS, YOU BLANK-EYED FREAK!!!!!!!!!"
(Blam! Blam! "Aaaaaaaagh!!!!!!")
OK. Anyway, I think there is still an outside world.
I am getting electricity and the Internet is working. The phone is dead though. I don't dare leave the house.
Oh, I'm sorry. I forgot to mention that I am getting attacked by blood maddened zombies.
They have the place surrounded and have since night fell.
Don't ask me where they came from or why.
I surely can't get any of them to explain it. All they do is go "Aaaaaargh. Errrrrr!!!!!" and drool a lot. Once in a while you can get one of the higher IQ ones to say "Want brains!! Hunger! Urghhhhhhh!"
(Sound of wood splintering.) "Aaaaaargh! Want brains! Errrrr!"
Aha, speak of the Devil, there is one of the Mensas now. "MAYBE THIS BASEBALL BAT WILL TEACH YOU SOMETHING!!!!! (Smack!!) THERE YOU BIG SLUG! NOW YOU CAN PICK YOUR ARM UP OFF THE FLOOR AND TAKE IT WITH YOU!!!!!!"
"Oooooorgh!!!!!!!!!!!!!!!"
These zombies just don't know when to let up.
There are so many of them. They must be breeding like flies.
Or however they make more.
They certainly are annoying.
(Sound of glass breaking) "Urggggg! Garrrrrrrrr!!!!!"
Man, don't they ever sleep? "HEY HANDSOME, EVER MET A MEAT CLEAVER BEFORE! LET ME INTRODUCE YOU!!!!!" (Slash) "Aaaahhhhh! Ahhhhhhh!"
I'll say one thing for them, these zombies are real party animals. It's three in the morning and they are still coming. They must be taking some really good vitamins. I had better not let down my guard for a moment.
(Crash! Splinter) "Aaaaargh! Bwaaaaahhhhh!"
"OW, YOU BASTARD!!!!! YOU GOT MY ARM!!!!" Blam! Blam! Blam Blam! CRIMINY! THESE THINGS JUST DON'T KNOW WHEN TO DIE! FOUR SHOTS IN THE FACE BEFORE HE FINALLY FALLS!"
Nuts. I'll have to type one handed now. Any more of this and I'll be typing with my nose.
Phew! I feel a little funny now. I'm glad I still have you to have contact with. I can tell this night is going to be a long one.
Aaargh! What is wrong with me? I feel like I am slipping a way. Errrr!!! Getting hard to tyyypppeeee………
Uuuughhhh! Hand ….no… work ….. right…….
………….
………….
(Splinter, crash, smash) "AAAAAAARGHHH!!!!!! DON'T NEED COMPUTER!!!!! SMASH!!!!! (Smash!) HELLO MY BROTHERS!!!!! ME WANT BRAINS!!!!!! HUNGER!!!!!!!!!! URGHHHHHHHHHH!!!!
Get Free access to a digital edition of a recent issue of the Humor Times magazine by sharing our site!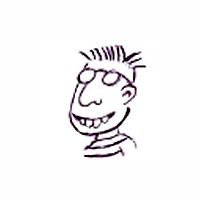 Latest posts by Roger Freed
(see all)