While it hasn't been officially announced, the Romney camp claims that they have been told by unconfirmed sources that the moderator for the first Presidential Debate set to air on October 3, 2012 will be Katie Couric.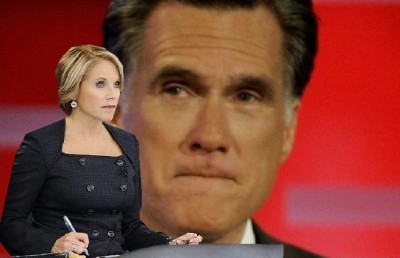 "Well, it could be worse," quipped Stuart Stevens, the only optimist on Team Romney. "At least Couric won't be interviewing Mitt."
Stevens was referring, of course, to Couric's infamous interview of Sarah Palin in 2008, right before the Presidential elections. Some say that interview put the nail in the coffin of John McCain's campaign for President.
"She's a sneaky snake, that Katie Couric," said another, less optimistic Romney aide.
"Whoever is responsible for choosing Couric is clearly a Liberal Commie Democrat, and we are going to fight this tooth and nail to see that we get a fair and impartial moderator for the first debate to make sure our boss doesn't get taken down like Palin."
The aide was asked who then, if not Couric, would be Mitt Romney's choice for a moderator. Would it be someone they thought could conduct a fair debate, or just one where Romney doesn't come off looking like a complete fool? The aide replied, "Um, all of 'em, any of 'em that, um, have, have been moderating over all these years…"
The following two tabs change content below.
P. Beckert's is one voice vying for frequency room at the top of the opinion dial. Angered and bewildered by many of today's events, P. Beckert uses humor as a tool to fight an onslaught of stupidity and ignorance that seems to permeate the airwaves and pollute the sensitivities of a once-brilliant nation. If you like her posts, become a follower and leave a comment. And don't forget to share on Facebook, Twitter and other social accounts! Syndicated from her
I Said Laugh, Dammit
blog.
Latest posts by P. Beckert (see all)