Set to train North Korea's basketball team, what happens to Dennis Rodman if they lose?
Although the mainstream media is reporting that Dennis Rodman is still planning on traveling to North Korea next week to begin training North Korea's basketball team, no one close to Rodman has seen him since North Korean Supreme Leader, Kim Jong Un, executed his uncle Jang Song Thaek on Friday.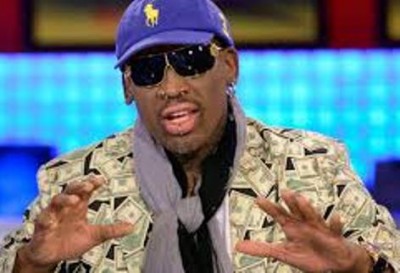 Friends close to Rodman claim that he has not been heard from since early Friday, and his own personal trainer says he did not show up at the gym as usual Friday afternoon.
His closest friends can only speculate that Rodman made public his renewed commitment to travel to North Korea this upcoming Monday following the execution in order to remain on the good side of the quick-tempered Jong Un.
How long Rodman will remain in hiding is anyone's guess.
"He got in over his head on this one," said one friend identified only as "Dunker." Dunker said the last time he talked to Rodman, which was last week for a game of one-on-one, Rodman didn't appear as biggety as normal.
"He was all quiet like, you know, he had something on his mind, and he played a terrible game that day."
Dunker remembers though, there was something else about Rodman.
"Something he said to me kinda curdled my blood. He said he knew something was going down and he'd probably have to leave town for awhile, but he wouldn't say what it was."
And now after the execution, Dunker was asked, "Do you think it was the execution? That Dennis Rodman knew about the execution and was asked to keep quiet until it was carried out?"
"Worse," said Dunker. "He might just be the next one to be executed," Dunker predicted.
Asked why he thought Kim Jong Un would want to execute his best friend in the whole world, Dunker confided.
"Well, imagine you are Dennis, who, after all, has not led a very saintly existence and you just hear that your North Korean friend has executed his favorite childhood uncle for the charge of leading a 'capitalist decadent lifestyle…a dissolute, depraved life, squandered money…' etc. Need me to go on?"
The following two tabs change content below.
P. Beckert's is one voice vying for frequency room at the top of the opinion dial. Angered and bewildered by many of today's events, P. Beckert uses humor as a tool to fight an onslaught of stupidity and ignorance that seems to permeate the airwaves and pollute the sensitivities of a once-brilliant nation. If you like her posts, become a follower and leave a comment. And don't forget to share on Facebook, Twitter and other social accounts! Syndicated from her
I Said Laugh, Dammit
blog.
Latest posts by P. Beckert (see all)