Love the one(s) you're with on Valentine's Day, be they human or feline!
Meet Angela Minter, a recently divorced 43-year-old woman whose husband left her for a much younger woman. However, this newly divorcée isn't letting her husband's infidelity get in the way of celebrating Valentine's Day, because she has her cats to keep her company.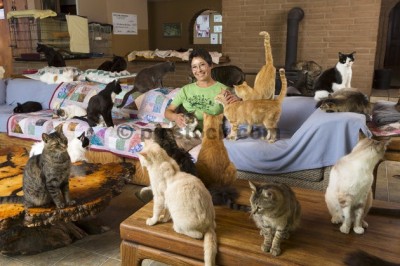 "Most of my friends think my sanity is affected by my divorce. I just tell them who needs a man when you have cats? Cats don't judge you or cheat!" Minter said. "I'm spending this Valentine's Day cuddled up with my fur babies, drinking wine, and watching 'Girls' on HBO!"
The Humor Times contacted Angela's ex-husband Mike about his ex-wife. "She started taking in all of these strays when I cheated on her the first time. I just thought it was some crazy woman thing. I mean…look at her. Can you blame me for cheating?" he asked.
Ms. Minter isn't letting her ex-husband's comments ruin her Valentine's Day. "Sticks and stones may break my bones but my cats will NEVER hurt me!"
The smell of cat urine and feces was starting to get to this writer and he tried to leave Ms. Minter's apartment. Ms. Minter asked this writer if he could stay and spend Valentine's with her and her "fur babies." However, I told Ms. Minter that I'm married and not into women with cat hair stuck on their teeth.