Beyonce Knowles' small loss is village's huge gain
Megastar Beyonce Knowles stopped over in China last week after the completion of her Mrs. Carter tour in the hopes of getting some rest and relaxation.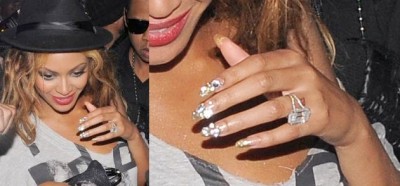 After traveling to over 130 countries and being on the road for nearly a year, the singer wanted a moment of quiet reflection before getting back to the glitz and glamor, so she chose a tiny rural village away from any major city.
As she was tweeting this very private moment of "selfie-reflection" to over 13 million people, her diamond studded nail broke off and fell between the shuffling feet of her entourage's entourage.
"Hold up!" Mrs. Knowles-Carter shouted. "Bey's nail just broke.  This does not happen to Bey-bey!"
At this, the entourage, the entourage's entourage, bodyguards, cameramen, cameramen's bodyguards, and Jay-Z all went into frantic overdrive to find the missing nail, tripping over themselves and all of China in the process.
"Oh, never mind!" Beyonce called out reassuringly. "Bey forgot she has Bey-backups."
After her solitary moment was over and the commotion died down, she and her 100 peeps got in the Bey-jet and took the long and arduous flight of luxury home.
Not two minutes after they had left, a large number of locals gathered round to discuss and debate whether what had just happened, had actually happened.
"Did you see those foreigners?!" inquired one farmer to his friend.
"Of course!" the friend replied. "Who do you think the lady was?  And why do you think she took so many pictures of herself?  Did she not see the lake and mountains?"
"I have no idea, but obviously–hey! What's this?!"

Latest posts by Jeff Boldt
(see all)