One hoarder who did not bother with newspapers or junk
City workers with the local Health Department in Dallas, Texas, were called to the 1300 Block of Throckmorton Street on a tip from an anonymous caller who suspected her neighbor of being a hoarder.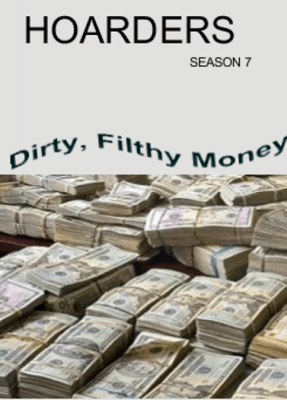 Upon arriving at the location, the task force found one Thurston R. Minedigger III, sitting amid piles and piles of wet moldy money. The home smelled strongly of human feces and un-rinsed jars of caviar, but the most striking difference between Minedigger's home and that of a normal hoarder is the amount of money stacked throughout the home.
"There were piles and piles of thousand dollar bills stacked from floor to ceiling," said Monica Norwalk, a City worker whose job it is to check out complaints received by the Health Department.
"I don't think I've ever seen anything like this before in my life. And, if you have never smelled that much money in one place, let me tell you, it is not a pleasant smell. I cannot imagine what it would be like having to work around money all day long," she said.
When workers tried to take Minedigger from his home so that they could clean it up, he became irate.
"You city workers are going to steal from me, aren't you?" he shouted at them.
"I know what you make, and I know that if I left you alone in this apartment for only a few seconds, the place would be picked clean in no time."
The workers tried to convince Mr. Minedigger that they were only there to protect him from himself; however, Mr. Minedigger was convinced that the poor were eventually going to take all his money and he had to protect every single dime.
A television in the corner of the room was tuned to Fox News, and ironically, Fox News Host Stuart Varney was discussing how much more the rich are having to pay in taxes and how it is going to federal aid programs for the poor.
Minedigger's eyes seemed to glaze over when the workers tried to pry the thousands of dollars from his hands in order to restrain him and take him from the home.
"My grandfather, Thurston Minedigger, worked his ass off for this money. Take your hands off me you ruffians," he shouted. "Where is my lawyer?"
A voice from under a pile of money near the dining area answered "Here, sir, I'm right here," as he stuffed piles of money in his pocket and tried to make his way to the front door.
Once Mr. Minedigger was restrained and ready to be escorted from the home, a social worker tried to talk to him about his options.
"We have a camera crew waiting just outside the door, Mr. Minedigger, and it is our obligation to let you know that this scene will be filmed and aired on national television on the A&E Channel next season. You could make anywhere in the neighborhood of $10 to $15 thousand dollars for your story."
Mr. Minedigger seemed to calm down upon hearing this and agreed to allow the crew in to film his segment of the Hoarders television show. The name of the segment is being tentatively called "Dirty, Filthy Money."
Once he was in the custody of the social workers, the A&E Crew moved in to the penthouse to start filming the clean up.
City workers estimate the amount of money found in Minedigger's penthouse ranges anywhere from a couple thousand to a few million, depending on whom you ask once the crews are finished cleaning up.
Minedigger's attorney refused to be interviewed on or off camera.
Latest posts by P. Beckert
(see all)