Jim Cantore not excited about prospect of working for Kim Jong un
Supreme Leader Kim Jong un was hopping mad this week when, for the umpteenth time, his national hydro-meteorological scientists gave an erroneous prediction.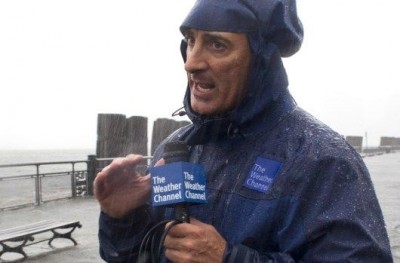 "You said it was going to snow!" the enraged leader shouted to the weather scientists.
"Look at me! Look at me! I am dressed for snow. I had my skis waxed. I was ready for a downhill run, and it is 80 degrees and sunny outside. I cannot go outside in the sun. It will ruin my porcelain skin. Make it snow! Make it snow right now," the leader screamed.
The scientists tried to reason with Kim Jong un, saying while they apologize for the error, they simply could not fix the problem, blaming their errors on poor equipment the state has had for decades.
"We have heard that other countries have something called dumplings radar, and if we had dumplings radar, maybe we could predict the weather better," said one unidentified meteorologist charged with the task of going outside each morning, looking up into the sky, and determining what the weather will be like for the next 24-hour period.
"It was freezing out this morning," he said. "Of course, I assumed it was cold enough to snow."
Jong un told the meteorologist his weather forecasting skills were lacking.
"You know what? You are all fired. I want Jim Cantore. Weather Channel always make me laugh. Jim Cantore always in panic. I like Jim Cantore. Get me Jim Cantore," demanded the stubby little dictator.
All attempts by Un's staff to reach Cantore have so far failed. Asked what he thought of the ridiculous notion that a leader of a closed-off country could just get whatever he wanted, Cantore was understanding.
"He's short. I get that. I'm not the tallest guy either. Of course, I'm much taller than him. He's just having a short-guy hissy fit. We all do. He'll get over it. But no, I'm not interested in living in North Korea anytime soon. Their weather is too boring," said Cantore, who was readying himself to fly into the eye of Hurricane Cristina in the Pacific Ocean in a small, single-engine Piper Cub.
Latest posts by P. Beckert
(see all)