A weather map deemed "pornographic" was quickly removed today. "The graphic was a bit too graphic," said a spokesman.
A weather map showing a slow-moving storm stretching across the middle of the country pointing toward New England on Monday was quickly taken down by the Weather Channel for being a bit too graphic for their viewers.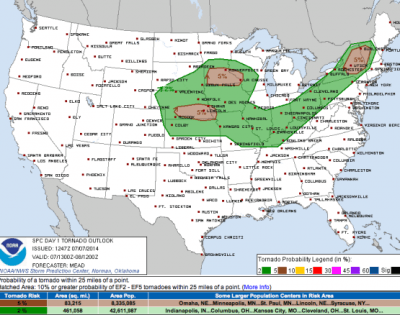 Meanwhile, the map remained on screen at a Columbus News Channel, as there was not enough time to create a less-graphic graphic.
Red-faced local weatherman Peter "Pete" Johnson from Columbus, Ohio began his forecast with a bit of levity: "Sure, it looks exactly like you think it looks," said Johnson, "but you won't get me to come down to your level."
Johnson went on to explain the phenomenon of the weather map creating such a distinct picture.
"In the weather business, it's what we call a boundary layer, caused by heavy boundary friction. This one may even cause some ball lightening," he said, trying not to giggle.
He continued. "With the right kind of circulation, this storm has the propensity to spread moisture all the way up into Canada."
With that, Johnson doubled over with laughter and was forced to turn the rest of the report over to his assistant, Missy Meyers.
Meyers continued, "Look for fast developing cumulonimbus in the pre-frontal boundary, culminating in heavy downpours before weakening, lighting a cigarette and falling fast asleep…"
The station manager quickly turned the report over to the sportscaster who then opened with his report about the scarcity of firm balls at the World Cup.
The following two tabs change content below.
P. Beckert's is one voice vying for frequency room at the top of the opinion dial. Angered and bewildered by many of today's events, P. Beckert uses humor as a tool to fight an onslaught of stupidity and ignorance that seems to permeate the airwaves and pollute the sensitivities of a once-brilliant nation. If you like her posts, become a follower and leave a comment. And don't forget to share on Facebook, Twitter and other social accounts! Syndicated from her
I Said Laugh, Dammit
blog.
Latest posts by P. Beckert (see all)