Some may call him a bum, but almost famous Alistair Cooper says he's a respectable bum.
At many festivals today, for a large sum of cash, you can avoid the portable toilets overflowing with crap and the STD infested tents. Instead, if you happen to be a more reserved type, you can sleep in an air conditioned tour bus with a fully stocked mini-fridge and a 24-hour a day concierge, essentially surrounded by staff who will literally wipe your ass.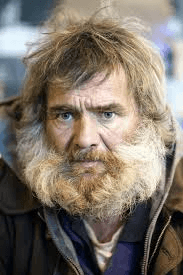 But Rolling Stone has found one guy who actually still knows what it means to live like a rock star, the classic type, we're talking Slash and Iggy Pop here, a man who actively embraces the thought of sleeping in his own urine soaked leather pants, cigarette in one hand, bottle of rum in the other.
Alistair Cooper is a guy willing to actively battle the corporatization of rock and roll by sleeping behind speakers and hopping trains across the U.S. with Black Sabbath. Having snuck into 160 festivals in six years, Cooper is now releasing a book titled The Respectable Bum.
"I'm bringing life back to music, it has lost its soul, America's Got Talent and that Bieber bastard have come and shat all over the foundation Neil Young and Dylan spent so many years creating," stated Cooper, as a tear rolled down his cheek.
After being offered a tissue by the journalist, the wannabe rock star replied, "I haven't showered in exactly 36 days, and this morning I woke up naked in a graveyard, do you really think I use tissues?"
Wiping his face with his filthy sleeve, Cooper continued, "Over the past decade or so, the true spirit of music festivals has been lost. If you attend a festival like Coachella or even Bonnaroo, you see nothing but hipsters galore in Indian headdresses, do you know how offensive that is? That's like going to a festival in France with a beret on your head and a necklace made of garlic and snails hanging from your neck. After getting bored of wearing their novelty headdress, you see the same clowns getting their hair washed at the Garnier Fructis booths. Back in the good old days, John Frusciante used to drink Garnier Fructis, you know, just for kicks."
Obviously irate, the soiled semi-celebrity continued, "That's not how it was meant to be. Great Festivals like Woodstock and Glastonbury were originally about community and social equality— not corporate interests and men wearing Crocs.'"
On the bio of his website, Cooper sums it up in either a deeply poetic or truly idiotic manner: "I belong where I don't belong." Globally, he has snuck backstage at festivals, fueling his passion through music photography, videos and living life of an utter scumbag. Early in his illegitimate lifestyle, he caught the eye of KISS, who swept him up on a whirlwind tour on their cross-country VW van tour.
"Touring with KISS was crazy, the only job I had to do was scrub Gene Simmons' tongue with a toothbrush every night. That thing was massive, it sometimes took me an hour to get all the scum off," states Cooper.

Latest posts by John Glynn
(see all)