Kyleigh's Law requires young drivers to display a special decal. It has inspired many more.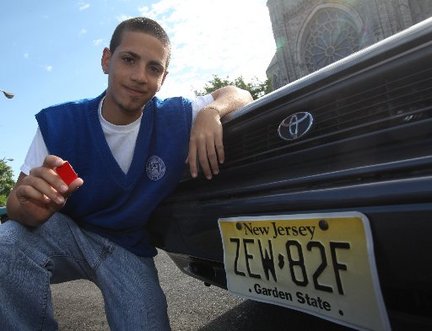 Kyleigh's Law (S2314) is a motor vehicle law in New Jersey. It requires any driver under age 21 who holds a permit or probationary (formerly provisional) driver's license to display a $4 pair of decals on the top left corner of the front and rear license plates of their vehicles. The decals are mandatory as of May 1, 2010.
Fogie's Law (S4524) requires any male driver over the age of sixty five to display $100 gray decal on the top right corner. This new law will improve police identification of older men who happen to drive ludicrously slow in the passing lane. Critics of the law cite the redundancy since the brimmed fedora hat in the back window already profiles older male drivers. Supporters agree, but claim that hats do nothing to generate needed funds.
Harriet's Law (S7251) requires all mothers of children under the age of 18 to display a $200 yellow decal on the bottom right corner of license plate. This new law, which will dramatically improve state transportation coffers, will help identify potential erratic women drivers whose squabbling children in the backseat make it difficult for women to adhere to stop signs, yellow lights, no turn on red signs, and pedestrian crosswalks.
Sam Adams' Law (S8625) requires all card-carrying members of the Tea Party to display a $1 yellow decal of the snake with the words "Don't Tread on Me." The highly controversial new law promises to identify potentially dangerous drivers who, listening to Rush Limbaugh on Sirius Radio, pound the dashboard, shout obscenities into the windshield, and refuse to yield at clearly posted regulations because "they have a right to do what they want to do."
As a compromise, Tea Party members may appeal for a refund of this "unjust taxation" through the Division of Motor Vehicles. Processing the refund may take as much as three years, which, of course, comes with a prorated interest rate as set by the Federal Reserve Bank — an irony that escapes most members.
Rogaine's Law (S7262) requires all men between the ages of 40 and 60 to display a $300 blue decal on front and back license plates. This lucrative new law was established to help identify men who have become, in effect, teenagers once again. Police will now be able to spot speeders, tailgaters, drunken drivers, and drivers with very young and very blonde women in the passenger seat of sporty red convertibles.
Public Menace Law (S8742) requires all women shorter than 5'2 and over sixty years of age to install at great cost four flashing orange lights on each side of the car to allow police and fellow drivers to understand that a woman who cannot see over the wheel that indeed such a menace does exist and to stay clear of the flashing orange car. The exorbitant cost will hopefully persuade such drivers to stay home and knit sweaters and take care of the cats.
Barbra Streisand's Law (S3434) requests all gay, lesbian, and transgender drivers to display a rainbow magnetic banner along both sides on an automobile. Trucks are exempt because gay drivers do not drive trucks. Lesbians, however, beg to differ and have instead adopted a rainbow flag, hoisted high above the cab of their F150. Fans of the new law state that it has helped them locate the toniest of shops and coziest of cafes. Critics of the new law state that "Wow! I didn't know how many gays are on the road! Guess we have to accept them."
The law was conceived by members of the New Jersey Gay Pride Community to advance awareness and acceptance of gay membership in society. The fee is optional, but state officials, off the record, have claimed that the donations of this new "request" have generated enough to build that new tunnel from New Jersey to New York, with the promise that the tunnel be called, "The Bette Davis-Judy Garland-Liza Minnelli-Donna Summer-Saint Sebastian-Elton John and Freddy Mercury Tunnel of Gay is Good." Barbra Streisand is suing for her name to be removed from the legislation.
Latest posts by Walter Bowne
(see all)