Kim Jung Un plays movie critic
[This page is an excerpt from the Humor Times magazine.
The monthly publication is available in print or digital formats, all over the world.]
Get the FREE News in Cartoons Humor Times app for more funny news stories like this!
Everyone knows how backward North Korea is…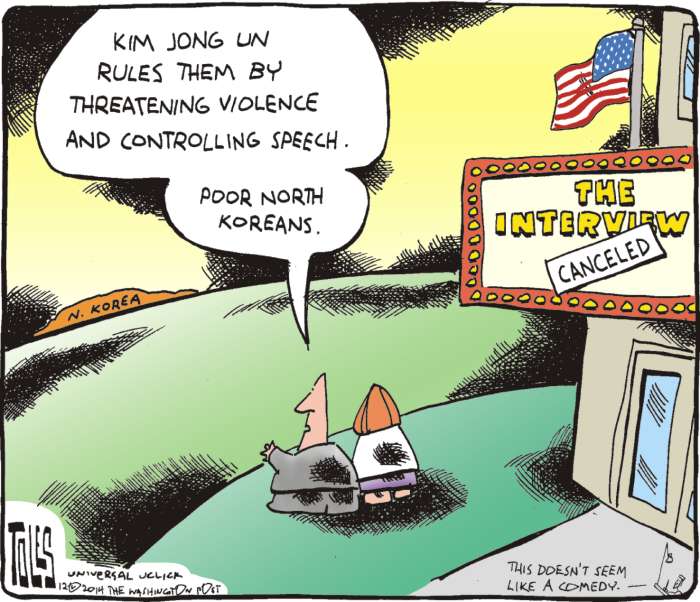 but who knew they were such movie buffs?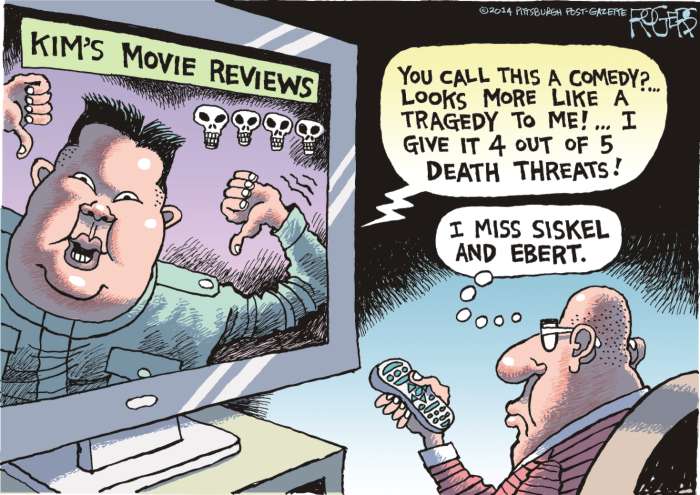 Turns out, Kim Jung Un is a very opinionated critic…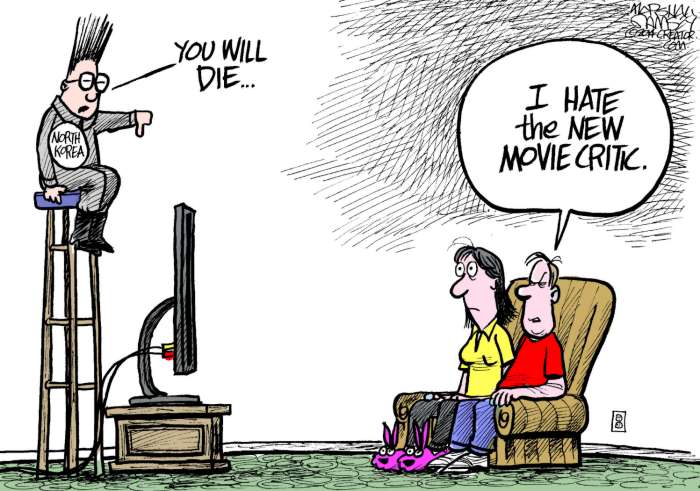 and he loves basking in all the attention.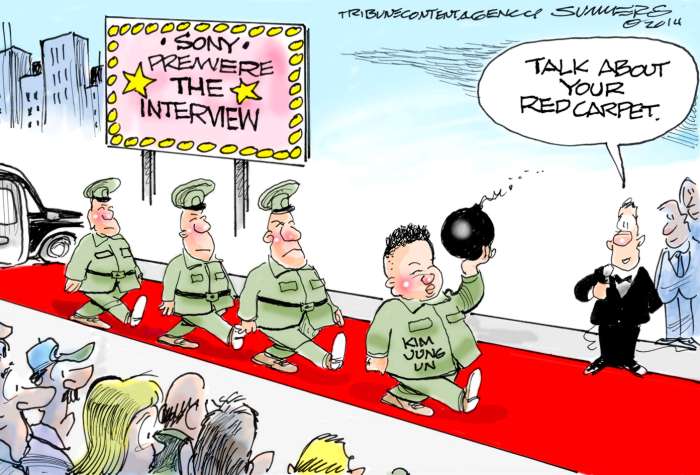 The sky's the limit for this young Un…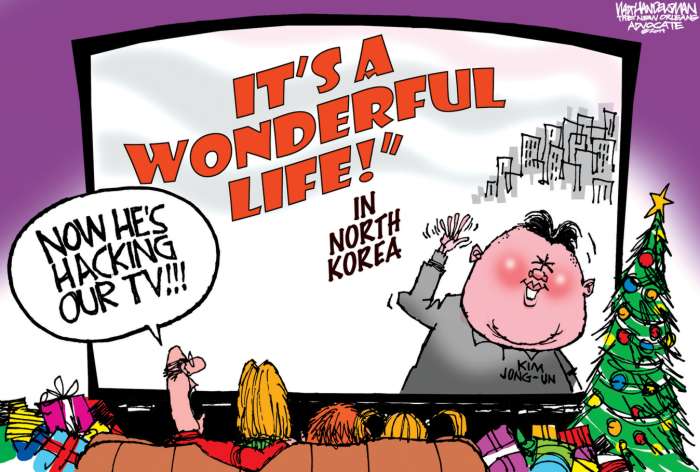 and he's looking to branch out.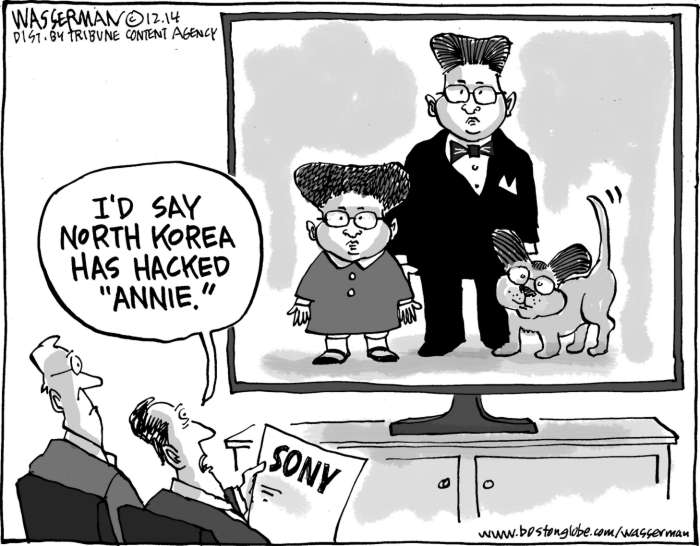 Meanwhile, movie execs have a reputation to protect…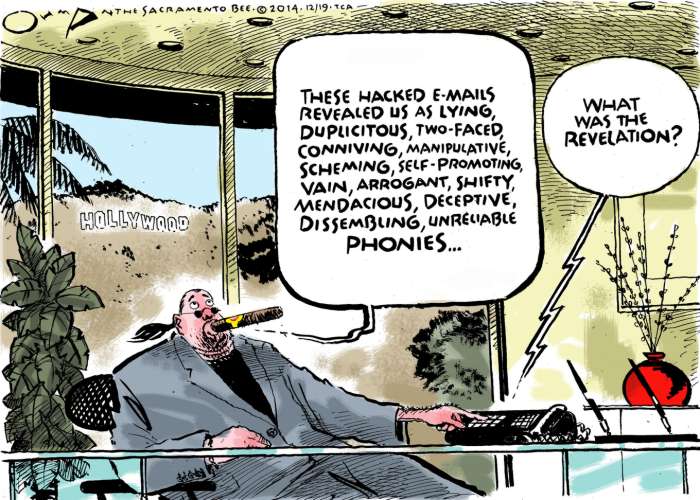 and an elite team has been assembled to do just that.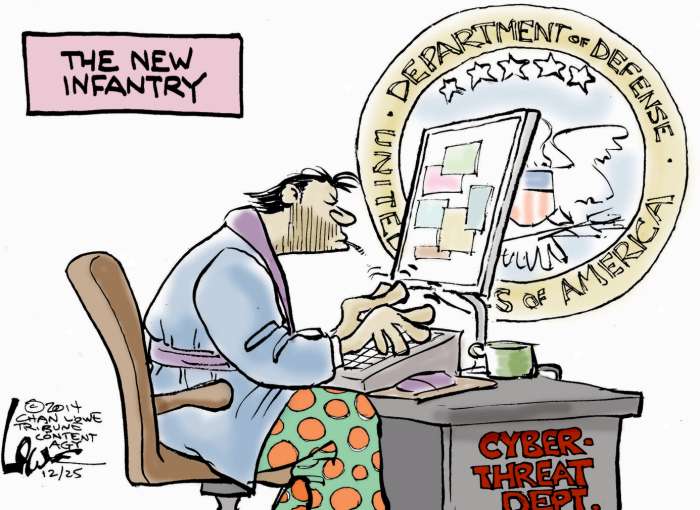 See more in our "News in Cartoons" series here. To check out more of our great collection of professional cartoonists, visit our Political Cartoons sampler, our political Cartoon Galleries, non-political panel cartoons and our International Political Cartoons sampler. If you'd like to try your hand at captioning cartoons, check our Cartoon Caption Contest. Enjoy, and please use the share buttons below. Thank you!
The Interview is a controversial 2014 American comedy film directed by Seth Rogen and Evan Goldberg in their second directorial work, following This Is the End. The screenplay by Dan Sterling is from a story by Rogen, Goldberg and Sterling. The film stars Rogen and James Franco as journalists instructed to assassinate North Korean leader Kim Jong un (played by Randall Park) after booking an interview with him.
In June 2014, the North Korean government threatened "merciless" action against the United States if the film's distributor, Columbia Pictures, went ahead with the release. Columbia delayed the release from October 10 to December 25, and reportedly edited the film to make it more acceptable to North Korea. In November, the computer systems of parent company Sony Pictures Entertainment were hacked by the "Guardians of Peace", a group the FBI believes has ties to North Korea. After leaking several other then-upcoming Sony films and other sensitive internal information, the group demanded that Sony pull The Interview, which it referred to as "the movie of terrorism." On December 16, 2014, the Guardians of Peace threatened terrorist attacks against cinemas that played The Interview.
On December 17, after a number of major North American cinema chains canceled screenings in the interest of safety, Sony canceled the theatrical release of The Interview, drawing criticism from the media, Hollywood figures and the White House. Despite initially stating that it had no plans to release the film, Sony made The Interview available for online rental and purchase on December 24, and it had a limited release at selected cinemas on December 25. The Interview has earned $40 million in digital rentals, making it Sony's most successful digital release, and over $6 million at the U.S. box office. It received mixed reviews.
Rogen and Goldberg developed the idea for The Interview in the late 2000s, joking about what would happen if a journalist was required to assassinate a world leader. They picked North Korea leader Kim Jong-il, but put the project on hold until Jong-il died and his son Kim Jong un assumed power in 2011. Development resumed when Rogen and Goldberg realized that Kim Jong un is closer to their own age, which they felt would be funnier. is closer to their own age, which they felt would be funnier.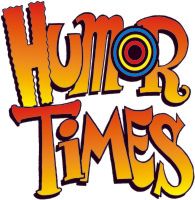 Latest posts by Editorial Cartoons
(see all)