Making fun of the headlines today, so you don't have to
The news doesn't need to be complicated and confusing; that's what any new release from Microsoft is for.  And, as in the case with anything from Microsoft, to keep the news from worrying our pretty little heads over, remember something new and equally indecipherable will come out soon.
Really all you need to do is follow one simple rule:  barely pay attention and jump to conclusions.  So, here are some headlines today and my first thoughts:
'Fifty Shades of Grey' opens to weak reviews
People who've seen ‪it say the film is so bad audiences should have a safe word to make the film stop.
Ruth Bader Ginsburg: 'I wasn't 100 percent sober' at State of the Union
Which means she's now qualified to be Speaker of the House…
Kim Kardashian's daughter causes a scene at dad, Kanye West's, fashion week show
She probably screamed at him that Beyonce could do a better job.
NBC suspends Brian Williams for 6 months, no pay
Looks like NBC threw Brian Williams overboard, this can't end well for a guy whose job is Anchor.
Oregon's Kate Brown will be the country's first openly bi-sexual Governor
Also making her first Governor to literally rather than just figuratively want to screw men and women.
Sports Illustrated swimsuit issue model defends sexy cover
Ok, I'm not saying it's hot, but Bill Cosby did pour a drink on it.
Obama asked Congress to authorize 3-year military action against ISIS
That's to hold on until Suge Knight gets his driver's license back.
SNL 40th anniversary special is most-watched in 10 years
Really? The show was never the same after Brian Williams left to make movies.
Rand Paul, Mike Huckabee to appear in anti-gay documentary
If it's as a couple it'll bring new meaning to the term 'scared straight.'
Scott Walker refuses to answer question on evolution
Ironically, making a monkey of himself.
Rabbi accused of secretly videotaping more than 150 women
Although, it was taped from right to left so the women are all putting their clothes on.
New Jeb Bush hire called women 'sluts' on Twitter
In fairness, sluts vote, too.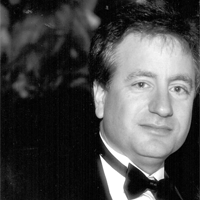 Latest posts by Paul Lander
(see all)