Lindy West no stranger to controversy
Blogger Lindy West is no stranger to controversy. Her blogs about hot button issues in comedy and debates with such comedians like Jim Norton have garnered her both praise and criticism. Even though many think Ms. West has no sense of humor, she recently admitted to the Humor Times that she laughed at a joke about black people.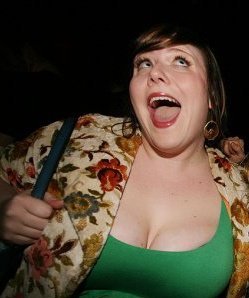 "My girlfriend and I were sitting in Starbucks, working on our blogs when a black man walked up to the cashier and asked for a vanilla latte,'" Lindy said. "My friend mused that he looked like the type of man that has had plenty of vanilla, and I couldn't help but laugh uncontrollably. A joke like that is not racist because a lot of African-American gentlemen enjoy the company of Caucasian women."
"Of course, my girlfriend whispered the aforementioned observation in my ear so the African-American gentlemen would not hear us," Lindy continued. "We're not obnoxious savages. I feel that you can joke about anything as long as other people don't hear what you have to say."
This writer asked Ms. Lindy West if she'd ever take her observations to the stages of stand-up comedy, she said, "I seriously doubt it, I feel the world is not ready for a woman such as myself with such strong opinions about such topics like sexism and misogyny," Lindy said.
"A lot of my humor would fly right over the heads of people in the comedy clubs. I'm at my best when I'm home alone behind my keyboard."