Everybody's favorite radio talk show host, Jerry Duncan, interviews Bernie Sanders!
ANNOUNCER
Live from under a rock in your backyard, it's The Jerry Duncan Show.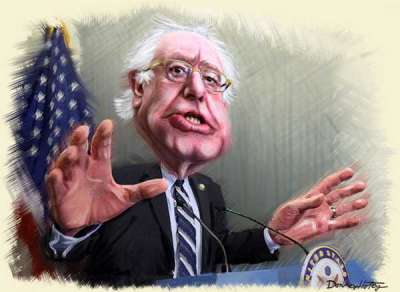 JERRY
Good morning listeners nationwide. Is it a good morning? We'll soon find out. Today on the show my guest is the Independent Senator from Vermont, Bernie Sanders.
BERNIE
I almost didn't make it. Thank goodness I found an earthworm that knew which rock you were under.
JERRY
You look hot and sweaty. Can I get you something to drink?
BERNIE
Got an Egg Cream?
JERRY
A what?
BERNIE
It's a New York thing. Please, whatever you have.
JERRY
Let's talk about the 2016 election. You almost won the Democratic nomination.
Loud footsteps are heard.
ASSISTANT
Is this water bottle for Bernie Sanders?
JERRY
No. I'm christening a ship. Of course it's for him, you idiot. Now get the hell out of here.
BERNIE
(gulping water)
Yeah, I should have won. Hillary had all those super delegates before the campaign began. The odds were stacked against me.
JERRY
But you ended up winning 23 states in the primary. Wisconsin, Michigan…
BERNIE
Washington, Oregon, West Virginia and so forth. Nobody thought I'd win anything. I had larger crowds in Seattle in one day than the Mariners had all season.
JERRY
That team sucks.
BERNIE
28,000 people in Portland. Speaking of Oregon, I have a couple of jokes.
JERRY
Okay.
BERNIE
Why couldn't the baby Jesus be born in Oregon?
JERRY
I don't know.
BERNIE
Because they couldn't find three wise men or a virgin.
Both are laughing.
BERNIE
Here's another one. Why are rectal thermometers banned in Oregon?
JERRY
Got me.
BERNIE
They cause too much brain damage.
JERRY
(laughing)
You should be doing weekends at the Comedy Store.
BERNIE
Better yet, I should be the star of Curb Your Enthusiasm. I look more like Larry David than he does.
JERRY
Let's go over your record. You've served longer than any person in Congress — 27 years.
BERNIE
True.
JERRY
You grew up poor in Brooklyn.
BERNIE
Absolutely. My father had two nickels to rub together. And guess what?
JERRY
No clue.
BERNIE
My brother and I stole them. Don't ask. He was checking the holes in his socks for weeks.
JERRY
You were elected to the House of Representatives in 1990 and the Senate in 2006. You are a progressive voice for campaign finance reform, corporate welfare, climate change…
BERNIE
Let me stop you there. Climate change. Donald Trump and the Republicans are climate deniers, yet 97 percent of scientists say it's a fact. There's so little ice left in the Arctic that polar bears are hitchhiking to Minnesota. Can you imagine?
JERRY
Hey Bernie, speaking of polar bears I have a good one.
BERNIE
Go ahead.
JERRY
What did the polar bear eat after the dentist fixed its tooth?
BERNIE
The dentist.
JERRY
How did you know the punch line?
BERNIE
I made up the joke.
JERRY
You were a carpenter after college. Is that true?
BERNIE
Yes. I built an ark that sailed in the Atlantic for 40 days and 40 nights. Two of everything were on board… lions, elephants, cows, Republicans, Democrats, Independents. We ran out of food so I had to turn back.
JERRY
What happened to the ark?
BERNIE
It's a ship in the Bangladesh Navy.
JERRY
Are you running for president again? You're an old fart.
BERNIE
Excuse me. I'm 74 years young and will be the next president of the United States. I promise every American a quart of Ben and Jerry's Bernie's Yearning ice cream.
JERRY
That's fattening. A half cup is 250 calories.
BERNIE
Calories, shmalories. My motto is "Eat today, wear tomorrow."
JERRY
Words of wisdom from the man who knew Abe Lincoln.
BERNIE
Look, let me make it perfectly clear. It's my Uncle Abe and he made a delicious chicken soup.
JERRY
See you tomorrow everyone.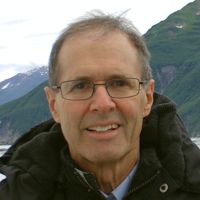 Latest posts by Dean Kaner
(see all)