Spoof talk radio at its best: Jerry Duncan interviews George W Bush!
ANNOUNCER
Live from under a rock in your backyard, it's The Jerry Duncan Show.
JERRY
Good morning listeners nationwide. Is it a good morning? We'll soon find out. Today on the show my guest is the 43rd president of the United States, George W Bush.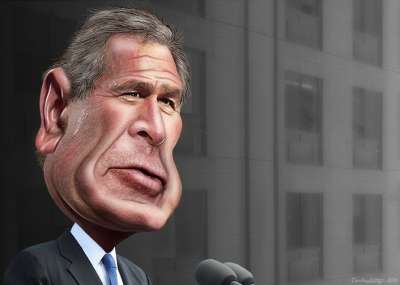 GEORGE W BUSH
Muchos Taco Bell amigos.
JERRY
Whatever El Stupido.
BUSH
Before we get started, I brought you a gift.
JERRY
A bale of hay from your ranch?
(The sound of crumpling paper.)
BUSH
No. I painted a portrait of you.
JERRY
That's not me. It's Steve Bannon.
BUSH
Oops. Wrong monster.
JERRY
You were the president for two terms. The first election in 2008 you beat Al Gore by just 537 votes. The Supreme Court had to declare the winner.
BUSH
I won because like I said in one of my speeches, I knew "how hard it was for Americans to put food on their family." Those votes came from retired comedians living in Florida.
JERRY
You were a drunk before you met your wife Laura in 1977. How did that happen?
BUSH
It started when I was a party animal at the fraternity house during my college days. I drank everything I could get my hands on. After graduation, I continued the habit until I crashed my old man's car into a police vehicle.
JERRY
Did you go to jail?
BUSH
No. I had a Get Out Of Jail Free card that I used from my Monopoly game. Boy was I lucky that I never played Clue.
JERRY
Laura saved your ass.
BUSH
Yes sir. She was the original desperate housewife.
JERRY
You owned the Texas Rangers baseball team, an oil company, worked on your father's presidential campaign in 1988. Then became the Governor of Texas from 1995-2000.
BUSH
And that's how I learned about the Axis of Evil.
JERRY
North Korea, Iraq and Iran. Right?
BUSH
No. OJ Simpson, Charlie Manson and Son of Sam.
JERRY
Your first year as president the Twin Towers in New York City were attacked on September 11, 2001. What was going on in your head?
BUSH
I was reading the book My Pet Goat to a bunch of second graders and worried that I wouldn't be able to finish.
JERRY
You were rushed to safety. Right?
BUSH
Yes. I was taken to a secured bunker. I remember meeting a mother of a child who was abducted by the North Koreans right in the Oval Office.
JERRY
Are you delusional?
BUSH
I'm Methodist.
JERRY
You started wars in Iraq and Afghanistan. I understand why you wanted to smoke out Osama bin Laden. He was the mastermind behind 9/11. But why Saddam Hussein?
BUSH
Why not? It's only a 10 hour plane ride from Afghanistan to Iraq. I have plenty of frequent flier miles. (chuckles) Hee, hee, hee.
JERRY
Let's discuss your time in office. You increased Federal spending and cut taxes for the wealthy.
BUSH
(chuckles) Hee, hee, hee. My peeps.
JERRY
When you took office there was a 237 billion dollar surplus. When you left 8 years later there was a deficit of 162 billion.
BUSH
It's Newton's law of gravity. What goes up must come down.
JERRY
Yeah, my urologist told me that before I started taking Viagra. Hey, what about Hurricane Katrina? You didn't do anything about the flooding in New Orleans for two days.
BUSH
I really feel bad about Katrina. But look at the bright side, there was fishing in the French Quarter. I caught me a big Red Snapper on Bourbon Street.
JERRY
What do you think of Trump?
BUSH
Because of the Donald, I'm more popular than ever. I'm no longer a joke.
JERRY
That's your opinion, fella. Okay Renoir paint away.
BUSH
I confess padre, I paint by numbers.
JERRY
You talk like an idiot.
BUSH
Of course I talk like an idiot. How else could you understand me?
JERRY
Good-bye everyone. See you tomorrow.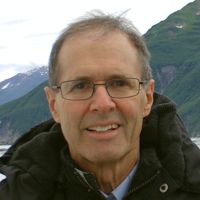 Latest posts by Dean Kaner
(see all)