Our intrepid radio talk show host interviews former White House Chief of Staff Reince Priebus!
ANNOUNCER
Live from under a rock in your backyard, it's The Jerry Duncan Show.
JERRY
Good morning listeners nationwide. Is it a good morning? We'll soon find out. Today on the show my guest is former White House Chief of Staff Reince Priebus. He was fired by the Trumpster after just six months on the job.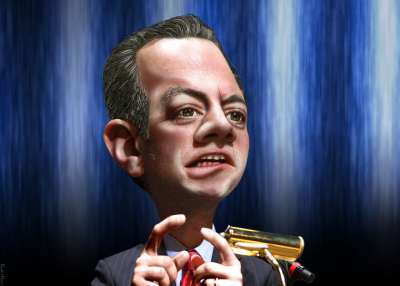 REINCE PRIEBUS
Hello Jerry.
JERRY
Man, you look like a baby. I brought you this Make America Great Again rattle for nostalgia in case things get out of control.
PRIEBUS
(shakes rattle)
I hate it.
JERRY
You were the person that decided who would meet with the president in the Oval Office.
PRIEBUS
Yeah, but I had to run it by the Chief Strategist Steve Bannon. You know him?
JERRY
Sure. The guy who had a moon landing on his crater face. Hey, what about Jared Kushner?
PRIEBUS
He wasn't allowed to talk. We did sign language. It was like working with Helen Keller. Very strange.
JERRY
The Russian probe is getting closer to the White House family.
PRIEBUS
I know. I might be in trouble.
(crying like a baby)
Whaaaaaaa, whaaaaaaa. Get me a binky.
JERRY
I will little man, but first tell the truth.
PRIEBUS
Will you get me in Witness Protection?
JERRY
Absolutely.
PRIEBUS
Well, okay. In 5 seconds here it goes — Trump knew everything, there was a meeting with Russians at the Trump Tower to hack DNC emails, meetings with Russians in the Oval Office, deal cut for Russian mail order brides, a summer White House in Moscow next year and Jared Kushner wasn't circumcised. Oops!
JERRY
I have good news and bad news.
PRIEBUS
What? I'm peeing in my pants.
JERRY
The bad news is I punked you. The good news is your life insurance is paid up.
PRIEBUS
You creep. You're rotten to the core.
JERRY
Get over it. He's gonna resign.
PRIEBUS
(hopeful)
You really think so?
JERRY
Trump hasn't passed one piece of major legislation. No healthcare, tax reform, infrastructure, a Federal holiday for Bevis and Butthead. Nada.
PRIEBUS
I guess I'll go home to Green Bay. I miss wearing my Cheesehead hat.
JERRY
Run for Governor. You could challenge that idiot Scott Walker. They love you in Wisconsin, man.
PRIEBUS
You know, I'm feeling better already.
JERRY
Uncle Jerry knows best. Meanwhile, you need to tell the press what you told me about Trump.
PRIEBUS
But he'll Tweet naughty words about me. He screamed last year when I told him to step down.
JERRY
Don't worry about the Trumpster. Look who took your place? General John Kelly. Hell, Cap'n Crunch has more experience.
PRIEBUS
Hey, the president threw me under the bus.
JERRY
So did my mother when I was born. Suck it up.
PRIEBUS
I think I can still get in the White House with my key. I'll wear my scary OJ Simpson mask and yell at Trump and everyone in the cabinet like a mental patient until they resign.
JERRY
That's the spirit little man. Win one for the Gipper.
PRIEBUS
(depressed)
I can't do it, Jerry. I have a reoccurring nightmare that the president will order Chris Christie to sit on me. That he'll peel me off the street like a pancake. Maybe even eat me.
JERRY
Did Einstein give up when he invented the computer? Did Bill Gates give up when he invented Einstein? Did Frankenstein give up with he invented the Kardashians?
PRIEBUS
You've inspired me. Gotta go.
JERRY
Wait. The interview isn't over.
PRIEBUS
Tough luck. I'm going to join the cast of Keeping Up With The Kardashians.
JERRY
Good bye everyone. See you tomorrow.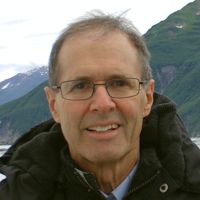 Latest posts by Dean Kaner
(see all)