Talk radio host extraordinaire Jerry Duncan interviews Kellyanne Conway!
ANNOUNCER
Live from under a rock in your backyard, it's The Jerry Duncan Show.
JERRY
Good morning listeners nationwide. Is it a good morning? We'll soon find out. Today on the show my guest is the senior advisor for the Trump administration, Kellyanne Conway.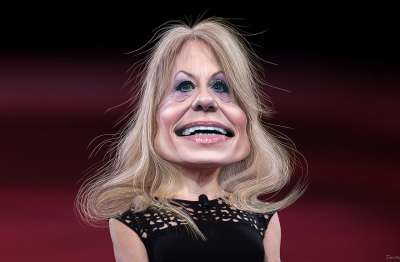 KELLYANNE CONWAY
Good morning.
JERRY
I finally met the mouth that roared on Pennsylvania Avenue.
CONWAY
I take that as a compliment.
JERRY
Wow. You have big teeth.
CONWAY
I'm going to use my choppers to bite off your head.
JERRY
You're a tough cookie. My intern told me that you graduated from law school. Is that true?
CONWAY
Yes. I'm a liar, I mean lawyer.
JERRY
You endorsed Ted Cruz in the last presidential campaign. Gag me with a spoon.
CONWAY
That's not fair, Jerry. The fake news makes Cruz out to be nastier than he really is. Sure babies don't want to be kissed by him, but grown up women do.
JERRY
How old?
CONWAY
I don't know. They are drugged 24/7 in nursing homes.
JERRY
When you were working on the Cruz campaign, you criticized Trump as being "extreme" and "not a conservative."
CONWAY
Not true.
JERRY
Those are your words. I saw the clip on Fox.
CONWAY
True. Next.
JERRY
Look at all the people that have been fired or left under a cloud of suspicion in the White House. Michael Flynn, Paul Manafort, Sean Spicer, Reince Priebus, James Comey, Tom Price and more.
CONWAY
There's a reason, Jerry. Flynn is too short, Manafort talks funny, Spicer is clueless, Priebus is a crybaby, Comey is too tall and Price has eyebrows the don't match the color of his hair.
JERRY
Did the Russians help the Trumpster win the election and is he close to Putin?
CONWAY
I'm going to confess. I can't lie to my priest in confession any longer.
JERRY
You're admitting it?
CONWAY
(crying) Yes. I can't let the president sell Alaska to the Russians. I must save Sarah Palin.
JERRY
Palin? Megyn Kelly asked that idiot about Brexit. She said it was the most important meal of the day. Doctors can't pick up a a brain wave in that woman's head.
CONWAY
(crying) I want to leave the White House a hero. I need to be loved. Morning Joe banned me, Jerry. It's because I'm prettier than Mika Brzezinski.
JERRY
No, because you stole Bozo the Clown's makeup and are scaring viewers.
CONWAY
I'll have you know I was the winner of the Miss Blueberry contest when I was in college. You are berry rude.
JERRY
Oh, Kellyanne cracked a funny. Hey, you couldn't ad-lib a fart after a baked bean dinner.
CONWAY
Did you know that I was a cheerleader in high school? I'm so great. Listen to this cheer.
Whatta we want?
Great sax!
Whatta we need?
Great sax!
Whatta we play?
Great sax!
Go Tigers!
JERRY
I assume you're out of work after the confession today.
CONWAY
Just checked my phone. I have a text from the president.
JERRY
What does it say?
CONWAY
Get your boney little ass out of the White House. You're a loser!
JERRY
Ringling Brothers called the show. The good news is they need another clown. You're a natural.
CONWAY
Thank you. You're really sweet.
JERRY
See you tomorrow everyone.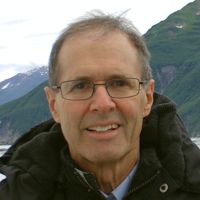 Latest posts by Dean Kaner
(see all)