Our favorite talk radio show hosts a debate on the state of the nation.
ANNOUNCER
Live from under a rock in your backyard, it's The Jerry Duncan Show.
JERRY
Good morning listeners nationwide. Is it a good morning? We'll soon find out. Today on the show my guests are Senator Chuck Schumer, former Governor of Alaska Sarah Palin, and comedian Kathy Griffin, who is representing the American voter, in a spirited debate about the State of the Union.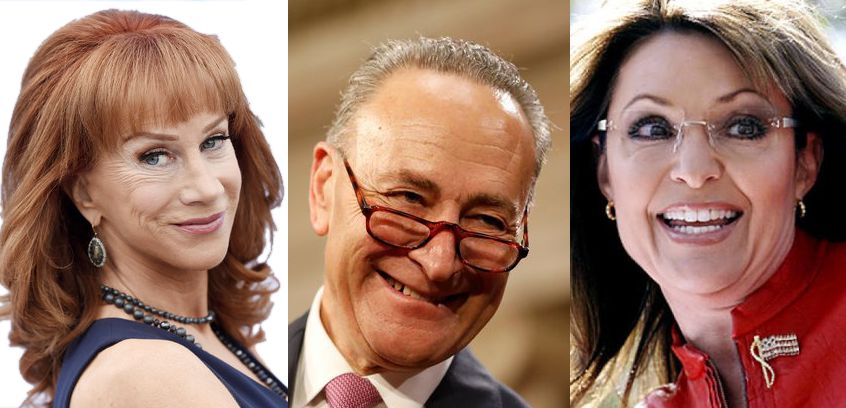 PALIN
I don't like unions.
GRIFFIN
Well I do. I'm in the actors union. Union, union, union.
JERRY
Hold on dumb and dumber. I'm talking about the United States.
SCHUMER
Isn't this silly? I'm going to be debating two people who share the same brain.
JERRY
Tax reform. Taxes. A large problem for America.
PALIN
You betcha. Texas is always trying to claim they are the largest state. But it's Alaska. I even have the name tattooed on my butt so I won't forget.
GRIFFIN
What is she saying?
SCHUMER
I don't know. It's like eating a corn beef sandwich with mayonnaise. Makes no sense. Correct me if I'm wrong.
PALIN
You're wrong.
SCHUMER
The problem with taxes is the inequality in our system. The tax breaks are going to corporations and the upper one percent—multimillionaires and billionaires. We need to give those breaks to the middle class and poor. Maybe no taxes at all if a family earns less than $20,000.
GRIFFIN
Like me folks. I've been out of work for over a year. I hope the New Year ball drops on Anderson Cooper's head.
PALIN
I don't want to pay more to the government. I need that money to support my foundation The Sarah Palin Institute of Brain Farts. We study why old people forget what they ate for breakfast or how car keys end up in refrigerators. Important stuff like that.
JERRY
Speaking of important–North Korea.
SCHUMER
I bet Sarah doesn't know the name of the leader.
PALIN
You wanna bet? How about a billion dollars wise guy?
SCHUMER
You're on road kill. Okay. What is it?
PALIN
Little Rocket Man. That's what the president said.
GRIFFIN
(laughing) No. It's Kim Kardashian.
SCHUMER
Where's my money?  It's Kim Jong-un.
PALIN
Fake name. Not paying.
GRIFFIN
Did I tell you? Kim Jong-un and I are going into business together. We're selling mistletoe. His motto is "Make love, not war."
JERRY
Moving on to Russia.
GRIFFIN
Hey Duncan. What do you call a beautiful girl in Russia?
JERRY
I don't know.
GRIFFIN
A tourist.
JERRY
Kathy cracked a funny. Ba ha ha ha ha ha.
SCHUMER
Let's get serious. The Russians meddled in our elections. Fake adds on Facebook and Twitter against Hillary. I'm   worried I'll be next.
JERRY
You should be. I created a new series for NBC called Everybody Hates Chuck.
PALIN
When is this debate ending, Duncan ? I'm going hunting today for Rocky and Bullwinkle. Made room for their heads in my den.
JERRY
Last question. Do you have any regrets? You first Governor.
PALIN
Yeah. I should have talked trash about Tina Fey for dissing me on national television. It's not too late. I can still shove Ms. Fey's glasses up where the sun don't shine. Watch out four eyes!
JERRY
Ms. Griffin.
GRIFFIN
I should have married Hugh Hefner. Then I could have had a show called My Life On The Double D List.
JERRY
Senator.
SCHUMER
I should have replaced Kathy Griffin on Anderson Cooper's new years eve special. Big time publicity.
GRIFFIN
You rat. To think you would stoop so low.
PALIN
I'm with you girl. Let's get em. I'm a black belt and aim for the nuts.
GRIFFIN
I'm a white belt and really nuts. Look out 1600 SAT score boy!
JERRY
Good-bye everyone. See you tomorrow.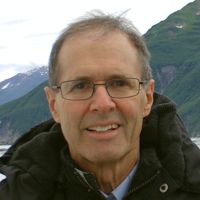 Latest posts by Dean Kaner
(see all)