Wherein our intrepid talk radio host interviews activist and movie & TV star Alec Baldwin.
ANNOUNCER
Live from under a rock in your backyard, it's The Jerry Duncan Show.
JERRY DUNCAN
Good morning listeners nationwide. Is it a good morning? We'll soon find out. Today on the show my guest is Democratic activist and movie/TV star Alec Baldwin.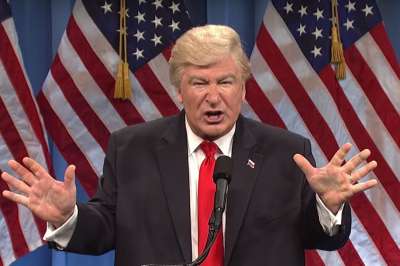 ALEC BALDWIN
Hello Jerry.
JERRY
You seem to be in a good mood today.
ALEC
Life is beautiful.
JERRY
That's what the captain of the Titanic said pulling out of Southhampton.
ALEC
Don't mess with my head. I'm a big star.
JERRY
This is hilarious. You were born in Amityville, New York. That's where the horror film takes place.
ALEC
Considering my brother is Stephen Baldwin, it all makes sense.
JERRY
He's a nut job. The guy has experimented with more drugs than Merck.
ALEC
Go ahead, destroy my family. Hold on, my meditation chant. (pause) Ahmmmmm.
ALEC
Sorry. I lost my cool.
JERRY
Just like you did ten years ago when you left a voice message for your 11-year-old daughter calling her a "rude, thoughtless little pig." Or the time you assaulted a photographer for videotaping your daughter and ex-wife Kim Basinger.
ALEC
Where did you dig up that dirt?
JERRY
From your psycho brother Stephen. He's pissed that you won't let him on Match Game.
ALEC
I'll make sure he never works in show business again. (pause) Ahmmmmm. I apologize for the outburst.
ALEC
I'm thinking about running for mayor of New York City. Maybe governor of the state. I could even be president. After all, I'm so good looking. Not like that overstuffed couch potato sitting in the Oval Office.
JERRY
Hey, the Trumpster is following the four food groups: McDonald's, Kentucky Fried Chicken, Uncle John's Pizza and Diet Coke. But let's talk politics. You supported Barack Obama twice for president.
ALEC
Yes indeed. He had a favorite charity in which we raised money together called Gere's Rear. Many helpless gerbils hidden in Richard Gere's rear were rescued and reunited with their families. It brings tears to my eyes to this day.
JERRY
Kim Basinger. Beautiful actress and ex-wife.
ALEC
Mean, sneaky. Had the court send me to anger management. Couldn't see my daughter Ireland for years. (pause) Ahmmmmm.
JERRY
Too bad, so sad. Boo-hoo.
ALEC
Well I got even. The doctor made her watch my film It's Complicated 10 times without being sedated after plastic surgery. Her lips grew so big they exploded.
JERRY
Close your eyes because I have a surprise. Now open.
ALEC
Holy shit! My brother Stephen and he's wearing a Make America Great Again hat.
STEPHEN
Hi Lefty.
ALEC
Back at you, Wing Nut. You're a loser. That's what mom told me.
STEPHEN
Funny. Dad told me you were a loser.
JERRY
I agree with both of you.
STEPHEN
I need to save everyone. We're going to read scripture. Right, Reverend Falwell?
JERRY
Wrong Jerry, fella. That was a lie to get you here.
STEPHEN
You're a sinner.
JERRY
The Lord works in mysterious ways.
ALEC
Stephen is running against me for Mayor of New York City.
STEPHEN
You know why? Because you're running.
ALEC
New Yorkers know Stephen is a lunatic and that I just won an Emmy for impersonating Trump on Saturday Night Live.
STEPHEN
Yeah? Well New Yorkers know Alec's career is finished after making that cartoon Boss Baby. How low will you go for a paycheck, pretty boy?
ALEC
Not as low as you, pothead. Six words. The Flintstones in Viva Rock Vegas.
STEPHEN
Barney Rubble is an American hero. Study history, toxic breath.
JERRY
Shut up the both of yas. I got an idea for a film. How about Forgetting The Baldwin Brothers?
ALEC
(intrigued)
I'm listening. Tell me more.
JERRY
It's about two movie stars forced to spend a week in the wilderness with a horny Betty White.
ALEC
Ahmmmmm.
STEPHEN
Where's the restroom, Duncan? I'm gagging.
ALEC
I'll join you, bro.
JERRY
Wow! I brought these two feuding idiots together. I'm smarter than Dr. Phil. See you tomorrow everyone.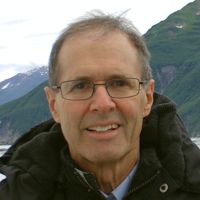 Latest posts by Dean Kaner
(see all)