Wherein our intrepid talk radio show host interviews the 'Mean Guys,' Louis Gohmert, Jim Jordan and Steve King.
ANNOUNCER
Live from under a rock in your backyard, it's The Jerry Duncan Show.
JERRY
Good morning listeners nationwide. Is it a good morning? We'll soon find out. Today on the show my guests are the 'Mean Guys': crazy Texas Republican Congressman Louis Gohmert, crazy Ohio Republican Congressman Jim Jordan and crazier Iowa Republican Congressman Steve King.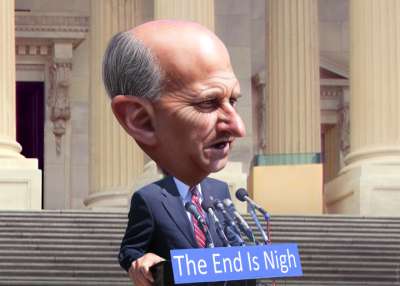 GOHMERT
Am I really crazy or is it hot in here?
JERRY
Both. When I'm done with this interview, you clowns will be drowning in your own sweat.
JERRY
Let's get to it. You are all members of the Freedom Caucus, which is sympathetic to the Tea Party. A bunch of extreme Righties loyal to Trump.
KING
Did you know Viagra is a recreational drug? I was against Medicare and Medicaid paying for it.
JERRY
Don't change the subject.
GOHMERT
Hey. I use Viagra. The wife and I play horse around the house after I take the pill. I ride her like a bucking bronco.
JORDAN
Will Viagra help me grow taller? I've been mistaken for a chimpanzee.
JERRY
Congressman Jordan. What do you get when you offer a member of the Tea Party a penny for his thoughts?
JORDAN
No clue.
JERRY
Change.
KING
Do you know that Martians are controlling us, Duncan? The other night I was alone in the house and heard the toilet flush twice. Then the air conditioning suddenly went out.
GOHMERT
If every American had a gun, there would be no Martians. We'd shoot the hell out of em.
JERRY
Are you sure that you're not from Wacko, Texas. Not Waco?
JORDAN
You know Obama was born in Kenya. His middle name is Hussein. Kenya, Hussein, 9/11. Just sayin.
JERRY
Just sayin my ass. You're a conspiracy wing nut, Cheetah. Trump is the president, not Obama.
JORDAN
(sound of chimp) Ooh, ooh, ooh, eee, eee, eee, aah, aah, aah.
KING
Trump's my idol. Now I can wave my Confederate flag with pride.
JERRY
Pride? The Trumpster is undermining our democracy. He's friends with Putin and Kim.
GOHMERT
Fake news. I think you're being controlled by Hillary Clinton. There's microwaves coming from your head. I feel the vibes.
JERRY
If you say so, Gomer Pyle.
JORDAN
How many Republicans does it take to change a light bulb?
JERRY
I dunno.
JORDAN
Three. One to hire a Mexican and two to deport him when he's done.
KING
That's true, Duncan.
JORDAN
Steve King knows. He's been voted the most racist guy in Congress.
KING
Better believe it. You name the minority, I'm against them.
JERRY
Native Americans were here before white people, Kingster.
KING
I say to that remark. Make pee, pee, not teepee.
JERRY
You three crazies have sought to discredit the FBI and Special Counsel Robert Mueller's investigation into Russian interference in the 2016 election. 17 intelligence agencies confirmed it happened. And you don't believe them.
GOHMERT
We questioned, I should say tortured FBI agent Peter Strzok while he was before our House committee in July. I don't believe him. My buddy here, Jim Jordan even offered to wrestle the G-Man.
JORDAN
I was a wrestling coach for 8 years at Ohio State University.
JERRY
Yeah. We know.
JERRY
Congressman Jordan. Wrestler Vince McMahon gets into a car. Who's driving?
JORDAN
Vince?
JERRY
The police.
GOHMERT
Duncan. Do you know Huma Abedin, Secretary Clinton's former assistant has family members connected to the Muslim Brotherhood?
KING
Do you know torture and prisoner abuse at Abu Ghrab is just hazing?
JORDAN
Do you know there's no such thing as climate change?
JERRY
I do know one thing about all of you. You're nuckin futs! See you tomorrow everyone.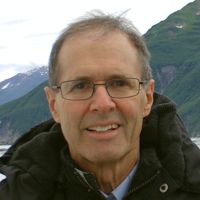 Latest posts by Dean Kaner
(see all)