To help celebrate the 50th episode of The Jerry Duncan Show, we interview "The Famous 3," New York City Mayor Rudy Giuliani, former governor of Alaska Sarah Palin and New York Senator Chuck Schumer.
ANNOUNCER
Live from under a rock in your backyard, it's The Jerry Duncan Show.
JERRY
Good morning listeners nationwide. Is is a good morning? We'll soon find out. Today on the show my guests are former New York City Mayor Rudy Giuliani, New York Senator Chuck Schumer and former governor of Alaska Sarah Palin. They are helping me celebrate the 50th episode of The Jerry Duncan Show.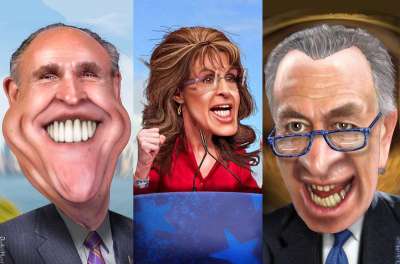 PALIN
Congrats. A fellow Alaskan makes good.
JERRY
Hey, Sarah. How did the Alaskan die from drinking milk?
PALIN
It was sour? No. That can't be right.
JERRY
The cow fell on him.
PALIN
Oh. The poor cow.
JERRY
Knock, knock.
PALIN
Who's there?
JERRY
Cow says who?
PALIN
No. A cow say mooooo!
JERRY
You're brilliant! Congratulations.
PALIN
(excited) Golly. Who'd ever thunk? I'm gonna call my hubby Todd and tell him the good news.
JERRY
How about some psycho babble from you, Rudy?
GIULIANI
Trump did not collude with the Russians. But if there was collusion, it's not illegal. The president is a fibber, not a liar. But if he lied, he's not a fibber.
SCHUMER
Look what we just heard. Crimes were committed at the highest level by the president. Rudy just called bullshit—fertilizer.
GIULIANI
You don't know what you're saying, Chuckles. I was a U.S. Attorney for the Southern District of New York. I interrogated Martians when their space ship landed in Roswell. I'm the guy who gave Daffy Duck a purpose in life. You're death-picable.
JERRY
Are the Democrats going to impeach Trump if they take the House in November?
SCHUMER
Democrats aren't talking impeachment. Our focus is on the economy. People are struggling from paycheck to paycheck. Health insurance is unaffordable.
PALIN
That's a whopper. Unemployment is at the lowest number ever.
JERRY
Not lower than your IQ.
SCHUMER
You took the words right out of my mouth. Look, trickle down economics only help people at the top. 1% of American households own 40% of the wealth. And Trump just gave them a raise with his tax cuts.
GIULIANI
Fake news. They earned it. Why shouldn't the 1% be entitled to 4 homes and 8 vacations a year? It's the American way. He who has the most toys wins.
JERRY
Rudster. When are we going to see Trump's tax returns? Every president since Nixon has revealed theirs.
GIULIANI
Trump isn't like any of the other presidents. He can do what he wants.
SCHUMER
Oh really? Did you hear about Trump's cannibal accountant?
PALIN
You're trickin us I hope.
SCHUMER
No, Sarah. She charges an arm and a leg.
PALIN
Was that on National Geographic Channel?
JERRY
No. It was in your favorite publication Highlights For Children.
JERRY
Please recite that famous poem you wrote while on the campaign trail. I want to be inspired.
PALIN
You betcha.
PALIN
I am smart, you are dumb. Oh, wait did I say that wrong? You are smart, I am pretty dumb! Did I say that right or am I too dumb?
JERRY
Thank you for those words of wisdom.
GIULIANI
Why am I here? Why are you there? Or am I there? And you are here. Confusing? Confusing. Who am I? Who? Me? Yes! I'm nuts. I'm the White House putz.
JERRY
Proof that insanity rules in the West Wing.
JERRY
The sky is grey, I like to have my own way, Horses go nay, That's all I have to say.
SCHUMER
Wonderful, Duncan. Must have taken all of 30 seconds to write. Being the grown up in the room, let me end with my poem.
JERRY
Go ahead, wise guy.
SCHUMER
Roses are red, Violets are grey, Yo mama's so ugly, I don't know what to say.
JERRY
A reminder everyone the Senator Chuck Schumer is available for Bible reading. See you tomorrow.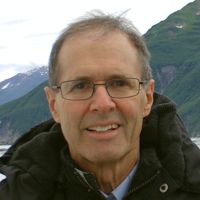 Latest posts by Dean Kaner
(see all)