Wherein our intrepid talk radio show host interviews former Utah Republican Senator Orrin Hatch and Iowa Republican Senator Chuck Grassley.
ANNOUNCER
Live from under a rock in your backyard, it's The Jerry Duncan Show.
JERRY
Good morning listeners nationwide. Is it a good morning? We'll soon find out. Today on the show my guests are former Utah Republican Senator Orrin Hatch and Iowa Republican Senator Chuck Grassley. Hello Crusty and Dusty.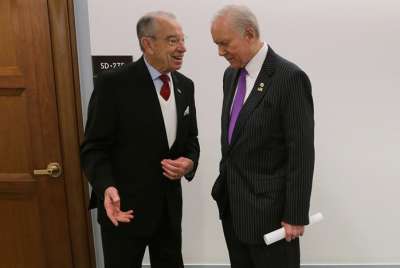 SENATOR CHUCK GRASSLEY
Mornin.
SENATOR ORRIN HATCH
Howdy.
JERRY
You two fellas are in your 80's. Isn't that a little old to be in Congress?
HATCH
It depends.
GRASSLEY
So what if I wear Depends, Orrin.
HATCH
Crank up your hearing aid, Chuck. Nothing wrong with it. I'm almost there myself.
JERRY
Senator Grassley. How can you tell the difference between the front and back of Depends? They're solid colors.
GRASSLEY
That's easy. Yellow in the front. Brown in the back.
JERRY
Interesting. What do you call a collection of old underwear?
GRASSLEY
I won't answer such nonsense.
JERRY
A brief history.
HATCH
Ha, ha. That's a good one, Duncan.
JERRY
Hatchet man. You were the longest serving Republican in U.S. history. When were you elected to the Senate?
HATCH
1977 when Gerald Ford was president. You know that Ford pardoned President Nixon after he resigned. Right, Duncan?
JERRY
So do you think Pence will pardon Trump after he resigns?
HATCH
Donald Trump is the greatest president since George Washington.
JERRY
Who told you that?
HATCH
He did.
JERRY
Let's see. Wall Street is tanking, our allies hate us, Putin is the most powerful leader in the world, everyone in the Trumpster's cabinet has resigned or thinking about resigning.
HATCH
So? We're going to pot.
GRASSLEY
Nothing wrong with pot. I smoke it all the time. Medicinal purposes you know.
HATCH
I told you to crank up your hearing aid. That's not the pot I'm talking about.
GRASSLEY
Are you talking about the place where I make poo poo and pee pee?
HATCH
No. Because that's in your pants.
JERRY
You two mental giants voted many times for tax cuts for the wealthy, encouraged deregulation of our environment protections, you're big time climate deniers and don't want healthcare that can help Americans.
HATCH
As my fellow Republican Ron Johnson said. "When I hear politicians talk about restoring faith in government that is the wrong solution." Republicans like chaos. We're proud to be Trumpsters on the Titanic. Though we are disgusted about Trump's past behavior with women. And he doesn't use protection or Viagra. Right Chuck? Chuck? Crank up your hearing aid!
GRASSLEY
What about Viagra? That's the only way the wife and I can play horse. I'm a farm boy at heart.
HATCH
I spent too much money on Viagra. Now I'm hard up.
JERRY
Speaking of hard up. You ran into some money problems and gave favorable treatment to the pharmaceutical industry through you lobbyist son.
HATCH
Next question.
JERRY
Ted Kennedy.
GRASSLEY
More people died in Ted Kennedy's car than a nuclear power plant.
HATCH
He was a dear friend of mine. Ted used to say "A drunk man never tells a lie."
JERRY
Maybe you two should take up drinking.
GRASSLEY
I drink. Hatch is a Mormon. He can't have fun.
HATCH
Where did you hear that garbage?
GRASSLEY
I saw The Book Of Mormon.
HATCH
Okay, Mr. Religion expert. If Jesus was Jewish, how come he has a Mexican first name?
GRASSLEY
You old rascal, you got me.
HATCH
I'm not surprised.
JERRY
My old man used to tell me the definition of surprise is a fart with a lump in it.
HATCH and GRASSLEY
Ewww.
JERRY
See you tomorrow everyone.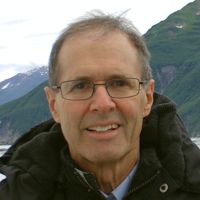 Latest posts by Dean Kaner
(see all)