Wherein our intrepid talk radio show host interviews the 39th president of the United States, Jimmy Carter.
ANNOUNCER
Live from under a rock in your backyard, it's The Jerry Duncan Show.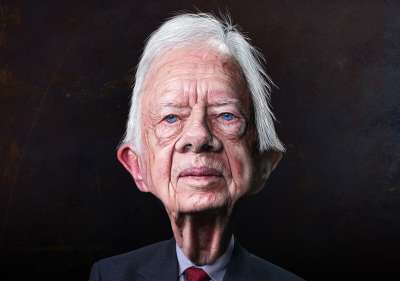 JERRY
Good morning listeners nationwide. Is it a good morning? We'll soon find out. Today on the show my guest is the 39th president of the United States, Jimmy Carter.
JIMMY CARTER
Hello. I notice you're eating a bag of peanuts. They can make you fat if you eat too many.
JERRY
That's okay. I thought you were gonna say fart.
CARTER
160 calories in a handful.
JERRY
Don't lecture me, Mr. Peanut. Save it for Dumbo.
CARTER
Hey Duncan. Did you hear the joke about the peanut butter?
JERRY
No.
CARTER
I'm not telling you. You might spread it.
JERRY
Okay, wise guy. Why did the peanuts run across the busy road?
CARTER
Can I call my wife Rosalyn? She might know.
JERRY
Because they were nuts. Just like your brother Billy.
JERRY
You were a Georgia State Senator from 1963-67, Governor of Georgia from 1971-75, then elected president in 1977.
CARTER
I got tired of the family peanut business. I wanted to make a real difference in this world.
JERRY
You sure did. Interest rates rose 18%. Not many people could afford to buy a home or borrow money. And 52 Americans were taken hostage and held for 444 days.
CARTER
Pass the peanuts, please.
JERRY
Of course, you had some successes.
CARTER
Yes. I was interviewed in Playboy. Honest, didn't look at those pretty girls in the pictures. But I do recall Stormy Daniels' grandmother Rainbow was Playmate of the Month on the cover. Ha cha cha.
CARTER
Aside from the interview, I signed the SALT II agreement with the Soviet Union, brought Egypt and Israel together for a peace treaty normalizing relations and who can forget my personal friendship with Elvis Presley.
JERRY
What was Elvis Presley's last great hit?
CARTER
I don't know.
JERRY
The bathroom floor.
CARTER
You're a strange man, Duncan. I bet you don't have hobbies.
JERRY
Yes I do. I collect belly button lint.
CARTER
Well I build houses for Habitat For Humanity. Only one mishap in 39 years. Last month, I accidentally nailed a volunteer to the other side of the door I was working on. Unfortunately, it was my daughter Amy.
A loud door slam is heard in the studio.
ROSALYN
Yoohoo, Jimmy. I brought you lunch.
CARTER
Thanks, sweetie.
JERRY
What do you got there?
ROSALYN
A possum. It's fresh road kill from my tires on the way over.
JERRY
Get that mangled thing out of here before I puke.
ROSALYN
You're no fun.
JERRY
I know you two old fogies don't like to say bad things about people. But honestly, what do you think of Donald Trump?
ROSALYN
Trump is so stupid, he sat on his TV and watched the couch.
CARTER
Trump went to Walgreens and said "Hey, these walls aren't green." I say "Make tacos, not walls."
JERRY
Should Congress impeach him?
ROSALYN
Yes. Impeach Trump. Make America Great Again.
CARTER
There you go. My wife is so smart, people think she's half Asian.
JERRY
See you tomorrow everyone.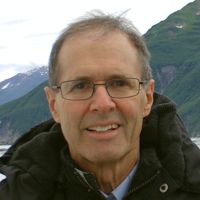 Latest posts by Dean Kaner
(see all)