Wherein our intrepid talk radio host interviews Secretary of State Mike Pompeo.
ANNOUNCER
Live from under a rock in your backyard, it's The Jerry Duncan Show.
JERRY
Good morning listeners nationwide. Is it a good morning? We'll soon find out. Today on the show my guest is Secretary of State Mike Pompeo.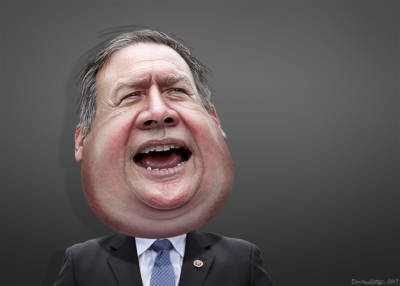 MIKE POMPEO
Good morning. If you don't like my personality, I have several more.
JERRY
You're on the Trump Titanic, fella. The ship is going down and there is an impeachment inquiry by the House. Do you need a life boat? Glug glug.
POMPEO
I'm not on the ship, Duncan. I'm the iceberg the ship hit.
JERRY
The Ukraine.
POMPEO
What about it?
JERRY
You were listening to the conversation when the Trumpster was trying to shakedown Ukrainian President Volodymr Zelensky. He wanted dirt on Joe Biden, and his son's involvement with a company in the Ukraine in return for Javelin missiles. But Congress had already approved military aid of the missiles for Ukraine's defense against a possible Russian invasion.
POMPEO
Who told you that?
JERRY
It's in the whistleblower complaint.
POMPEO
Never heard of it.
JERRY
Well. Did you hear about the Ukrainian hockey team?
POMPEO
No.
JERRY
They all drowned in spring training.
POMPEO
I'll send flowers.
JERRY
Let's see. You are the 70th Secretary of State. Also, former Director of the CIA from January 2017 to April 2018. A U.S. Congressman from Kansas for 6 years. And then you blow your resume by joining The Tea Party.
POMPEO
It's not what you think. I was watching the cartoon Alice In Wonderland and thought a tea party would be a cool place to socialize.
JERRY
The Tea Party guys are losers. Like a bottle of beer they're dead from the neck up.
POMPEO
I'll get back to you on that one. I don't have a neck.
JERRY
Just curious. What kind of name is Pompeo?
POMPEO
As the story goes, my great-great-grandfather Giuseppe was an educated man from a small village in Italy. He could read and write unlike the other village idiots. The Pope took notice and appointed him tax collector for the entire region. Everywhere Giuseppi went the people would yell, "You pompous a-hole!" He considered that a badge of honor and changed the family name to Pompeo.
JERRY
Beautiful. Your great-great-grandfather would be proud of you following in his footsteps as a pompous a-hole.
POMPEO
Did you know that I had a Sumo wrestling match with Kim Jung-Un when I was in North Korea? There were mobs of kids everywhere. They thought we were the Teletubbies. Imagine that.
JERRY
I can't. My brain went dead.
Donald Trump bursts through the studio door.
DONALD TRUMP
I hate the Teletubbies! They remind me of myself. Pompeo, don't talk to Duncan. He may be a spy.
JERRY
Why do you say that?
TRUMP
Because you wear "sneakers."
JERRY
Start packing. Game over, Trumpster. Michael Cohen's pals are waiting for you in the slammer. And they're mad as hell.
TRUMP
What do you suggest?
JERRY
Cover your behind.
TRUMP
I'm not worried. I have the Republican Party behind me.
JERRY
No. Rudy Giuliani pleaded insanity. Attorney General Barr agreed to a plea bargain. Three years in prison and no more Snickers for the rest of his life. Ivanka, Jared and the kids are living on a kibbutz in Israel. Melania eloped with Brad Pitt. Senator Lindsey Graham found God. And you destroyed the Republican Party. You're all alone.
TRUMP
I'm calling a lifeline.
Trump takes out his cell phone.
TRUMP
Vladdy. It's Donny small hands.
VLADIMIR PUTIN
Vhat's new?
TRUMP
I'm in a jam. I need a place to stay for awhile. Can you help?
PUTIN
Can't help. You owe Russia millions. Call Kim.
Trump dials another number.
KIM JUNG-UN
Hewwo?
TRUMP
Rocket Man, it's Donny small hands.
KIM
What you want, Trumpster?
TRUMP
Do you have room for me in The Hermit Kingdom? I could get arrested any minute.
KIM
Old Korea saying, "Hour glass waste of time." You should have made deal.
TRUMP
Help! Adam Schiff, Nancy Pelosi, Alec Baldwin, anybody. I'm a stable genius.
JERRY
See you tomorrow everyone.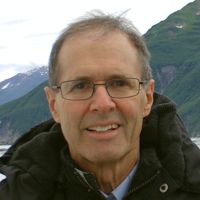 Latest posts by Dean Kaner
(see all)