Wherein our intrepid talk radio show host interviews Democratic Senate Majority Leader Chuck Schumer.
ANNOUNCER
Live from under a rock in your backyard, it's The Jerry Duncan Show.
JERRY
Good morning listeners nationwide. Is it a good morning? Yes, it is. Today on the show my guest is Democratic Senate Majority Leader Chuck Schumer.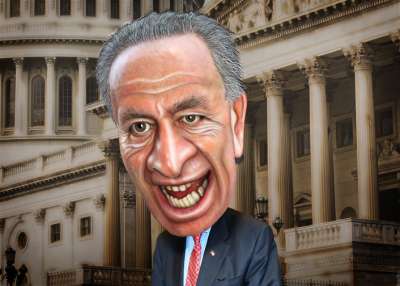 MAJORITY LEADER CHUCK SCHUMER
Good morning, Jerry. Call me Brookie Bear.
JERRY
Brookie Bear?
SCHUMER
I'm from Brooklyn.
JERRY
You're an idiot, Brookie.
SCHUMER
Okay. Call me anything you want.
JERRY
FYI. Your pothead cousin Amy Schumer should write your jokes.
SCHUMER
You're right. I want to apologize to all the comedians in the United States.
JERRY
Why? You're a comedian. Like the rest of the nutjobs elected to Congress.
JERRY
Time to get down to business. The Senate rejected a bipartisan bill to form a commission to investigate the January 6 insurrection of our Capitol.
SCHUMER
Once again, the Republicans are scared of the truth. That Donald Trump was responsible for a coup attempt on our democracy. All because he lost the election.
JERRY
Now what?
SCHUMER
Well. The Feds are going to put him in jail for tax evasion. That's what happened to gangster Al Capone.
JERRY
Elaborate for our listeners. They're not too bright.
SCHUMER
Trump inflated his wealth when he applied for loans. Then devalued his properties when he filed his income taxes. He cheated.
JERRY
Trump said he was a very stable genius.
SCHUMER
Mr. Ed was a stable genius. Donald Trump is a moron.
SCHUMER
Can I ask you a question?
JERRY
Sure, Brookie.
SCHUMER
How come you don't televise your show at the same time? I like watching myself.
JERRY
I read where former Senator Bob Dole said, "The most dangerous place in Washington is between Charles Schumer and a television camera."
SCHUMER
First, let's consider the source. Dole earned his reputation as a hatchet man. He makes Ted Cruz look like Mother Teresa. Second, Dole defended Nixon during Watergate. Third, he was the butt of many jokes on Saturday Night Live. Fourth…
Jerry is fake snoring.
JERRY
(pretends to wake up)
Oh. Are we back?
SCHUMER
This is a stunt Mitch McConnell would pull. You're childish.
JERRY
You got a perfect score on your SAT. Graduated from Harvard Law School, but never practiced law. Why?
SCHUMER
I wanted to be famous. To be a consensus builder. That's why I was elected to the House in 1981. Then the Senate in 1998.
JERRY
What's your biggest accomplishment?
SCHUMER
I fought for Immigratioin Reform before it was popular. Do you know I was in the Gang of Eight?
JERRY
Big deal. So was Snoop Dogg.
SCHUMER
You really are ignorant. Did your mother ever breast feed you?
JERRY
I was adopted. All I heard is that my real ma was from the Ozarks. Didn't know her ass from a hole in the ground.
SCHUMER
I rest my case. As you know, Congress will be gone for most of the summer.
JERRY
You guys hardly work.
SCHUMER
We do. 175 days of the year.
JERRY
I rest my case.
SCHUMER
Jerry. This summer is different. I'm going on a fishing expedition with House Speaker Pelosi.
JERRY
For loan sharks?
SCHUMER
It's a working vacation. We're going to catch big fish—Eric, Don Jr, Ivanka, Jared and the biggest of them all, the Orange Trumpster.
JERRY
What about Rudy Giuliani?
SCHUMER
Rudy is hard to find, because he's a bottom dweller.
JERRY
Hey, Chuckles. Do you know what Rudy last said to Trump when he couldn't hear him?
SCHUMER
No.
JERRY
Pardon me?
SCHUMER
I should have gone on Ellen.
JERRY
See you tomorrow.
Follow A Bit of Biden on Instagram every Monday, Wednesday and Friday @abitofbiden
The Jerry Duncan Show
(c) Dean B. Kaner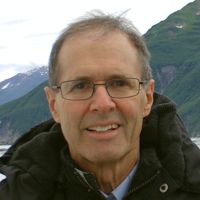 Latest posts by Dean Kaner
(see all)