[Disclaimer: This article is satire, or what we used to call "fake news" before actual fake news started poisoning the political discourse!]
Duck Dynasty fan, the King of Saudi Arabia, found dead on a different type of 'throne.'
This past Thursday saw the death of Duck Dynasty fan, Salman bin Abdulaziz al-Saud, the King of Saudi Arabia. A man that Secretary of State John Kerry once described as "a hell of a dancer," Abdullah died the most ironic of deaths. At the age 90, after nearly a decade on the throne, the king was found dead on a slightly less prestigious throne, the toilet.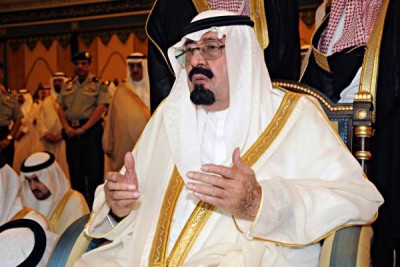 An absolute monarch of genuine power and sway whose reforms, in the words of Bill O'Reilly, "stank of shit," Abdullah spouted 'progressive philosophies' that barely registered with those who lived under his controversial rule.
Along with failing to overturn the senseless ban on Raisin Bran, Big Al also failed to reform the de facto ban on female drivers.
The death of the King, formerly known as Prince, Abdullah prompted world leaders, diplomats and other dignitaries to share hilarious stories about the late, not so great autocrat.
Prince Charles offered a compelling account:
In 2003, I (big nose Charlie) offered Abdullah a tour of Balmoral Castle in Scotland. After a bowl of Raisin Bran, which Al stubbornly refused to eat, I asked my royal guest whether he would like a tour of the estate. An initially hesitant Abdullah agreed. The powerful Land Rovers were drawn up in front of the castle and, as instructed, the King of Saudi Arabia climbed into the front seat, his interpreter in the seat behind. To his shock, the queen, my mother, was in the driving seat. With women not allowed to drive in Saudi Arabia, Abdullah was quite shocked, especially when she shouted, 'buckle up, big boy.'
This anecdote only serves to gloss over the mechanisms propelling the malevolent monarchy of Saudi. Apart from granting women the power to switch the TV channel once a week (with the permission of their husbands, of course), the king did not make any legitimate reforms to the government.
In the words of President Obama, "Abdullah's 'Middle East reformist' moniker is a pointless label, similar to being the tallest midget in a group of midgets. The absolute truth is that the King of Saudi Arabia presided over years of atrocious human rights abuses, ranging from the persecution of political opponents to repeatedly poking me on Facebook.
"Oh yeah, Abdullah also helped finance weapons for the most extreme of the rebel groups involved in the Syrian Civil War. Not cool, dawg, not cool.
"Remember this guys, there's a fine line between gossip and history, when one is talking about kings. I am not really sure what that means, but it sounds intelligent. Now, if you don't mind, I am off to play a round of golf with my man Jay Z. Come on Biden, you're my caddy today."
The following two tabs change content below.
John Glynn
John Glynn is an Irishman, a lover of Guinness and a potato connoisseur. An expert in the area of mediocrity, he one day hopes to own a decent coffee maker and visit SeaWorld Orlando.
Latest posts by John Glynn (see all)
Like the above content? Leave a comment below! Get notified of new content on HumorTimes.com: Subscribe via email!