"If a degenerate slob like Donald Trump can be President, why can't I?" asks alleged sex trafficker Rep. Matt Gaetz.
The Florida Republican Congressman, who called the charges that he's an alleged sex trafficker a "minor technicality that's amounted to nothing," says he's formed an exploratory committee in response to the "tremendous" support he says he has received to run for the Oval Office.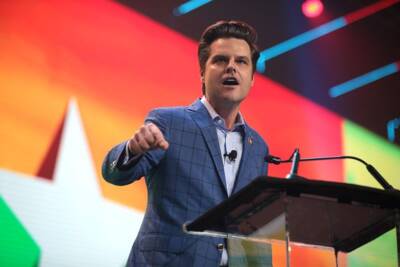 "Look, everybody knows Donald Trump is a pathological liar and creep, who cheated on his tax returns and should be in prison right now for his financial crimes. Not to mention he cheated on his wife by sleeping with that horse-face Stormy Daniels and all the other whores he's been paying to get in bed with," said Gaetz.

Gaetz is said to be among a growing number of Republicans who have become disillusioned with Trump and think somebody else in their ranks should be President, which apparently in Gaetz's case believes it should be him. Neither Trump nor anyone in the ex-president's sphere rushed to Gaetz's defense on the sex trafficking charges.

The Congressman called himself a "God-fearing Christian and one of the most upstanding moral persons you could ever hope to meet." The fact that he's an accused sex trafficker has absolutely no bearing on whether he's qualified to be President, he said.

Communist Democrats were behind those "Trumped up" charges, Gaetz maintained. He heatedly pointed out that federal prosecutors last year dropped the sex trafficking charges against him that he allegedly had a relationship with a 17-year-old girl and paid for her travels with him.

News reports said the charges were dropped because of credibility questions with two central witnesses. One of those witnesses was a former Seminole County, Florida, tax collector and friend of Gaetz who pleaded guilty that led to the investigation of the congressman.

What Gaetz conveniently didn't add was that new evidence could emerge that reinforces the prosecutors' case that he was in fact engaged in an unlawful relationship and that if convicted, could land him in jail.

When apprised of Gaetz' comments about him, former President Trump said in his usual understated way that the Congressman was a "dirty rotten scoundrel" and that the voters in Florida should know that the man they reelected to Congress is a "pervert," who in addition to having sex with minors paid to have sex with women of legal age.

"I never could stand that phony, okay?" Trump told reporters. "My people tell me Gaetz is a lying SOB. If it was up to me, he'd be in San Quentin right now, okay?"

Apprised of Trump's remarks about him, Gaetz responded by saying Trump belongs in a mental institution. The fact Trump has announced his candidacy for another term in the White House has to be the "biggest joke of the century," he said.

Asked what his platform will be if he runs for President, Gaetz said his first priority is to remove every Democrat from every House Committee in Congress. Kicking off Rep. Ilhan Omar from her spot on the House Foreign Affairs Committee was only the first step, said Gaetz.

He said he's planning to chair a select group of other esteemed Republican House members like himself to remove immediately "woke corrupt communists" like Democratic Reps. Adam Schiff, Eric Swalwell, Alexandria Ocasio-Cortez, Ayanna Pressley, and Rashida Tlaib from their committee assignments. Eventually, if successful, Gaetz said all Democrats in the House will be removed from all committees. They also will be faced with impeachment for "treason" and if convicted, removed from Congress.

His select committee, Gaetz said, will include such "highly respected" Congressmen as Marjorie Taylor Greene, Lauren Boebert — last seen attempting to carry a gun into the House chamber — Paul Gosar, and George Santos. Gaetz called Santos one of the most "honest, decent, and genuine persons I've ever had the pleasure to meet."

Asked to comment on Gaetz' plans against the Democrats and his possible run for the White House, House Speaker Kevin McCarthy ran into a closet to hide from reporters and refused to come out until they went away. But after he emerged from the closet, thinking the reporters had left, one particularly pesky scribe managed to catch McCarthy descending on a House escalator and said the American public deserved to know where the Speaker stood on kicking Democrats off House committees.

"Matt's one of the most upstanding people we have in Congress," said McCarthy. "I have the upmost respect for his talents as a legislator and his strong faith in God."

Told by the annoying reporter that he wasn't exactly answering the question, McCarthy said upon prodding that he held no grudges against Gaetz for refusing to vote for him as Speaker until the 15th ballot when he finally voted "present" as the California Republican won election to the post.

"We need more people like Matt in Congress," said McCarthy. "Him and George Santos, where can we find more outstanding Americans like them?" And with that, McCarthy fled the scene.

Asked to comment on the Speaker's comments about him, Gaetz said he will continue to support McCarthy as long as he fulfils every demand that Gaetz and his allies on the House Freedom Caucus say he must do to continue in that position. If McCarthy refuses to play along, "we'll find somebody else to be Speaker. I'm thinking of George Santos."

With that, Gaetz said he'll be heading to New Hampshire to greet his supporters in the Granite State, where one of the first Republican presidential primaries will be held.

"It's time we had a real man of Christ in the White House," proclaimed Gaetz.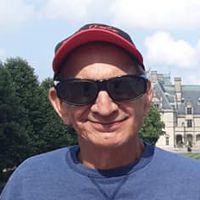 Latest posts by Eric Green
(see all)