The former president promises to jump over a man-eating shark in water skis outside his Mar-a-Lago Resort.
Former President Donald Trump will do just about anything to entertain his rabid MAGA fans at his rallies. But this week, Trump is pulling out all the stops at a campaign stop in Florida outside his Mar-a-Lago Resort.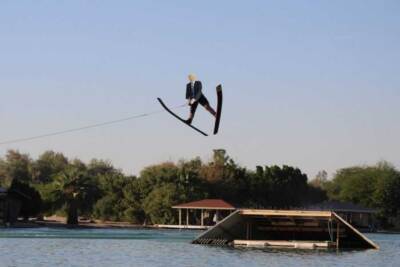 The former president is going to perform a death-defying stunt where he attempts to jump over a live man-eating shark on a pair of water skis. Trump will be donning a leather jacket and small blue shorts for the jump.
Meanwhile, his fans will be lined up along the shoreline cheering him on as his little buddy, Congressman Matt Gaetz will drive the boat.
"This is gonna be yuuuge. No candidate has ever attempted to jump over a shark on water skis. Sleepy Joe could never do this," said Trump.
Some pundits think this is nothing but a desperate attempt by Trump to boost his plunging poll numbers, as the 91 criminal counts he's facing in four indictments are taking their toll on his popularity.
Trump will be towed at a high speed toward a ramp, upon which he will launch himself into the air and over a circular area, marked by white buoys strung together, where the ferocious, man-eating great white shark will be, licking his proverbial chops, looking to devour the plump former president if he falls short.
But if he doesn't fall short and clears the hungry beast, Trump will have Jumped the Shark, while thrilling his crazed supporters and forever coining a phrase that's synonymous with futile desperation.
If Trump survives the stunt, he plans even more fun at rallies. Next week, at a rally in Des Moines, Trump plans to bite a head off a bat. Then the following week he will introduce a new character, an adorable little boy named Oliver, who has blond hair, big glasses, and a bowl haircut.
"He's just so cute and funny," said Trump, "like that cousin on The Brady Bunch who was introduced just before the show failed. People are really gonna love him."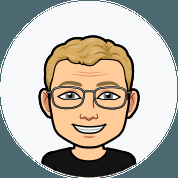 Latest posts by Dave Henry
(see all)