With Mitt & Ann Romney in the White House, a Presidential Bunker extreme makeover would be in order

As the elections draw near, word has it that Ann and Mitt Romney are worried about (did we say worried? We meant looking forward to) more than just Mitt becoming supreme leader of the business world. They are also very concerned about the condition of the various living quarters they will be required to inhabit on a temporary basis once Mitt takes office, i.e. The White House, Camp David and, God forbid–but it's pretty much a sure bet if he's elected–the Presidential Emergency Operations Center, or "Presidential Bunker" as it is more commonly known.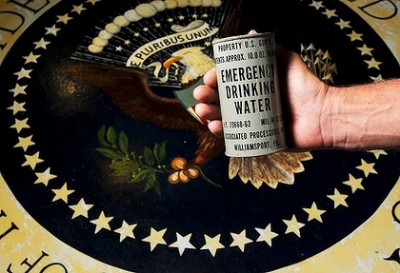 They have already commented on the condition of the White House, and plan an extensive overhaul complete with elevator shafts for the Presidential Cadillacs, a money vault in the basement for the millions they'll be required to bring back from their offshore accounts, and construction of a 12-foot high concrete barrier surrounding the perimeter of the White House separating them from the commoners (or "you people").
As far as Camp David goes, Mitt has agreed that while he doesn't particularly like "roughing it," he'll go there occasionally if he has to, but only if it is also renovated to "bring it up to Romney Code," joked Ann.
When it comes to the Presidential Bunker, however, both Romneys said that after touring the facility, they wouldn't be caught dead in there, literally.
"I was very disappointed in the place," said Ann. "I actually saw cans of beans on the shelves!" she exclaimed in horror.
"And," Mitt chimed in, "that awful drab camo was everywhere. Why, it was as if the Americans had turned off the public funds tap and all that was left were military rations. Totally unacceptable," he scoffed.
Once the Romneys returned home to their $12 million mansion in La Jolla, Ann was quick to get on the phone with her interior decorator, Fifi LaFontaine.
She was heard begging, "I know Mitt and I were saying we wouldn't be caught dead in that presidential bunker, but c'mon Fifi, you owe me one. It won't be that bad. A little paint, some new chintz curtains, and a couple of high-end Serta Perfect Sleepers and it will be…oh who am I kidding," said the exasperated First Lady hopeful.
"The place is a dump, but if you do this for us, we promise to appoint you as Ambassador to France."
Latest posts by P. Beckert
(see all)