President Obama authorizes an escalation in the War on Christmas
"The war on Christmas is very, very real…"
— Bernard McGuirk, The O'Reilly Factor, December 6, 2012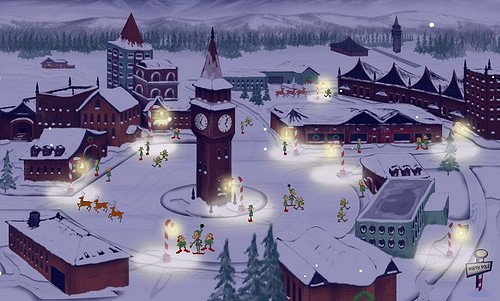 An American drone strike on a North Pole workshop, decapitating a Raggedy Ann doll and knocking the stuffing from a family of Teddy Bears, marked an escalation in the War on Christmas. The Pentagon released a statement saying that the workshop was manufacturing BB and water guns, but besides the dolls, first responders found only some Lego bricks and a Thomas the Train set in the rubble.
President Obama expressed regret for the drone attack's "collateral damage," but vowed that the United States would bring Kris Kringle to justice. "A free people can not tolerate a trespasser who gives innocent children the perverted Elmo doll, and steals their cookies," he said. Intelligence agencies have been unable to locate the bearded intruder, but suspect that he is hiding out in an Arctic glacier range.
Despite his hawkish words the president has been criticized for his administration's policy of referring to military action in the northern hemisphere as the "Airborne Sleigh Obliteration Operation," instead of "War on Christmas."
"This White House refuses to call the War on Christmas by its name," Senator Ebenezer Scrooge said in a speech to the Ayn Rand Society. "Soon they'll be sucking the work ethic out of homeless children by giving them free toys from FAO Schwarz."
Supporters and opponents of the war have taken to the streets. Occupy Rockefeller Plaza, which opposes the holiday season's commercialization, is in the fourth week of a sit in, marked by the removal of ornaments from the famous Christmas tree and violence against vendors selling chestnuts.
And last week elves gathered outside Macy's to protest the department store's window display of a gleeful Santa holding a hunting rifle, while standing under a stuffed red-nosed-reindeer-head mounted to a wall. The protest ended when the elves were trampled by hundreds of frenzied shoppers, running into the famous store to take advantage of a holiday sale.
The war has also rankled civil liberty advocates, opposed to the FBI's policy of intercepting e-mails from children to Saint Nick. Also causing consternation is the arrest of a department store Santa in Bedford Falls on child endangerment charges, for allegedly asking a toddler to sit on his lap.
"We must stand up to the Grinchism that is endangering our freedoms," ACLU attorney George Bailey said, making reference to Texas Senator Grinch's Committee on Un-secular Activities. "Unless we stop this tyranny, anyone who asks for a kiss while standing under mistletoe, or gives a suggestive Secret Santa gift, will come under the heavy boot of the state."
Despite the war's unpopularity with much of the public, government forces scored a major victory when a team of wooden soldiers recovered Santa's naughty and nice lists, during a raid on an igloo safe house. "This is a major setback for the enemy," Attorney General Holder said at the Justice Department, while displaying software that contained the names of millions of children. The attorney general told reporters that the lists would remain classified, but Entertainment Tonight is reporting that Harry Potter is on the naughty list.
In an end to a tumultuous week, presidential spokesperson Jay Carney announced that this year's White House Christmas tree will be called a Hannukah bush. "A Christmas tree violates the separation of church and state," Mr. Carney said, noting that the constitution does not require separation between synagogue and state. Mr. Carney had no comment when asked to address rumors that the president was planning to cancel the annual White House Easter egg hunt.
The following two tabs change content below.

Ben Krull
Ben Krull is a Family Law attorney in New York and a freelance writer. His essays have appeared in The New York Times, Baltimore Sun, Pittsburgh Post-Gazette and other publications.

Latest posts by Ben Krull (see all)