No fake fur for Adam Lambert
Adam Lambert, runner-up on Season 8 of American Idol fame, was spotted throughout the streets of New York the past few days sporting a very warm and cozy looking coat with what appeared to be one or possibly more large dead raccoons attached at the neck.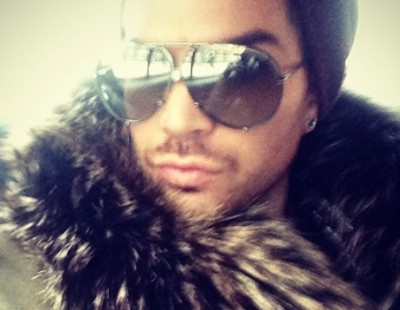 Upon closer inspection (after having chased down Lambert for several blocks on a somewhat icy NY sidewalk) a cameraman confirmed that, indeed, it was raccoon, but could not determine how many or the location where the animal(s) were harvested for this particular coat.
The paparazzi screamed at Lambert to stop or he'd report him to PETA, and Lambert slowed down enough to answer this question lobbed at him, "Hey Adam, do you like the feel of dead animal around your neck?"
Lambert, quite possibly feeling like a deer caught in the cross-hairs, quickly answered back "Well, yeah, I guess," and kept moving, thus avoiding having his lovely coat splattered with fake animal blood.
While knowing that Adam Lambert likes the feel of dead animals around his neck isn't particularly newsworthy, he hasn't done anything else lately that is. If he does surface again above the radar, we will hopefully get the news to you faster than a PETA activist can say, "How many animals had to die to keep you warm today?"
The following two tabs change content below.
P. Beckert's is one voice vying for frequency room at the top of the opinion dial. Angered and bewildered by many of today's events, P. Beckert uses humor as a tool to fight an onslaught of stupidity and ignorance that seems to permeate the airwaves and pollute the sensitivities of a once-brilliant nation. If you like her posts, become a follower and leave a comment. And don't forget to share on Facebook, Twitter and other social accounts! Syndicated from her
I Said Laugh, Dammit
blog.
Latest posts by P. Beckert (see all)