New, improved Peyton Manning can beat Seahawks any time
Following the Denver Bronco's blowout loss to the Seattle Seahawks in the Super Bowl, 34-year-old Bronco fan Chad Hall immediately deleted Peyton Manning from his Denver Broncos roster on Madden 25 for his Xbox and created a better version of the beleaguered 2014 NFL MVP in the video game's "Create-A-Player" mode.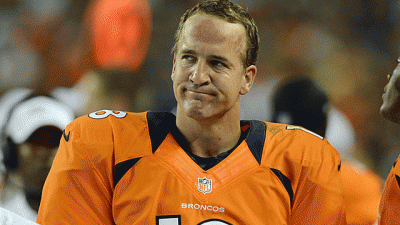 "This version of Peyton Manning doesn't have the past neck surgeries or being older holding him back," Hall said. "Peyton is lucky that I didn't pick up Tim Tebow in free agency and bench his ass!" Hall told the Humor Times.
This writer watched Chad Hall and the newer Peyton Manning beat the Seattle Seahawks in preseason mode on "Easy level" 89-0.
However, Hall stated this is just a warm-up for tonight's match-up after his mom gets off work. "She's making tacos for dinner and she said I can have a few Nutter Butters for dessert. After that, it's on like Donkey Kong, Seahawks." Hall later told us that the newer Manning is not intimidated by Richard Sherman.
The Hall family invited this writer for dinner, however, I had other commitments. Mr. Hall later emailed me and said the Broncos with the "new" Manning defeated the Seahawks 59-6 on the Hard level in Madden 25.