The Olympics can now proceed, says Putin
Russian President Vladimir Putin, well-known around the world for his affinity for winning at all costs, won the very first gold medal of the Winter Olympics in Sochi, and, of course, the first gold medal for Mother Russia.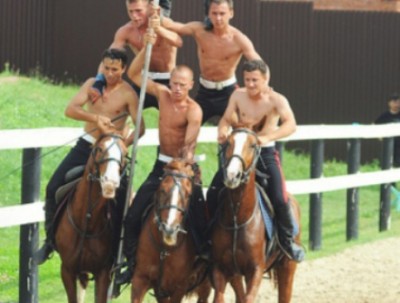 Putin had originally planned to sit the Olympics out, but when he saw that his fellow Russians weren't doing well in one competition, the one-man luge/ice dance/snowball shot-put triathlon, he decided to declare himself a team member, grabbed a Snickers bar, and handily won the event.
Putin finished in record time, while earning a 9.8 from the judges on the dance portion of the competition. He threw the shot put just shy of a world record to finish first in the event, which he says he only trained two days for.
Spectators were moved to tears as Putin danced to a special arrangement of Tchaikovsky's Dance of the Sugar Plum Fairies.
In addition, it was reported that Putin, unhappy with the luge sled designed by Russian engineers, went online prior to the games and bought a red Turbosquid luge sled, emblazoned with the nickname Pootie-Poot, a name given him by former US President, George W. Bush.
Speaking in his native tongue through an interpreter, Putin had this to say:
"I knew Russia didn't stand a chance in this competition, and I wanted desperately to make sure we won a gold medal, and we did. Was it hard? Oh yes, but I knew if anyone could do it, it was I (or me?). I'm not sure."
Putin, shirtless, and wearing double-insulated snow pants, bit into his gold medal to make sure it was real, and then gave a congratulatory wave of the hand to the winners of the silver and bronze medals while simultaneously showing them his biceps.
Later, when asked what inspired him to achieve such lofty goals, Putin simply said "my special parts are important to me and I want to show them off."
The translator, the same person who was hired to translate the entire Nelson Mandela Memorial Ceremony earlier this year, left the Olympic arena before realizing he didn't speak Russian.
Rumors are circulating that the particular event Putin and others competed in is not a real event, but one made up by Putin to show off his shot-putting, ice dancing, and sledding prowess. When confronted with their concerns, Putin threatened to pull Russia out of the competition.
To clarify further, the President threatened not only to pull Russian competitors out of the Olympics, but to also move the Olympics to another country altogether.
Obviously, the Olympic Committee members decided to let the gold medal stand, and so far, this is the only gold medal the Russians have won. Putin has announced that he is considering entering other competitions to make sure the Russians win the most medals of the Olympics, but he would not give any further information on this.
Last seen, President Putin was perched atop the men's downhill snowboard track, his dog, Koni, a black Lab, between his feet, and practicing for the man/man's best friend, downhill slalom, borscht cook-off race scheduled for next Tuesday.
Latest posts by P. Beckert
(see all)