Journal entry: July 3, 1977 (age 8) – Boys of Summer
For an 8-year-old, there is grave fear attached to some states of being, such as "separated from parents at an airport" or "on fire." For me, the gravest fear comes when I am "at bat." Sports are important on any grammar school playground, but they're even more important in a home with five athletic older brothers. Unfortunately, there is a nearly complete disconnect between the rods and cones of my eyes and the bats and balls of our national pastime. To get through nine innings, I have to think of baseball as time that will come off my sentence in Purgatory. (Hell is extra innings.)
But playing baseball at Frank and Betty Surdey's house at 487 Riverside Drive is different. My oldest brother, Jerry, is married to Mr. and Mrs. Surdey's daughter, Beth. The Surdeys have always made it crystal clear that that means we are all family. I never knew any of my grandparents, but I'd like to think they were as warm and kind as Mr. and Mrs. Surdey. For that matter, I'd like to think Santa and Mrs. Claus are as nice.
This afternoon, all six Mollen brothers, Beth, and her brother, Frank Jr., gathered for a game in the Surdey's backyard. (I like Frank Jr, in spite of the fact that he's a good athlete, too.) Their yard has been home field so many times, it has very little grass. Wide swaths of dirt form a diamond, a pitcher's mound, and a route to the bathroom. The space is small enough to endanger neighbors' windows, so hard ball is eschewed in favor of whiffle. I like whiffle.
Jerry and Frank Jr. were the captains and pitchers of the two teams. But when it came time for me to step into the batter's box, Mr. Surdey insisted on stepping in as relief pitcher. My brothers John and Bob exchanged some chuckles about me being babied. Mrs. Surdey, who was shuttling back and forth between the kitchen and yard with drinks and food-laden trays, overheard a snide comment. In her distinctive, high-pitched voice, she sweetly said, "Well, boys, Timmy will be the only one batting against someone who played 10 years of professional ball in the minor leagues." That – or perhaps the hamburgers she handed them – shut them up.
As I raised the yellow plastic bat, my shoulders tensed up almost to my ears. Mr. Surdey gave me a smile and said, "Here we go." His throw was underhand, slow, and right over the plate. I didn't swing. "That's OK, Timmy," said the best player on that and most other fields. "Take your time." Two spectacular whiffs followed. By now, Mrs. Surdey had paused in her hostessing duties to cheer me on.
On my last swing, I can't say I connected, but my bat passed within the gravitational pull of the spinning ball, slightly altering its trajectory. As the ball dribbled pathetically toward the mound, Mr. Surdey seemed to lose track of it, while I barreled to first base. From my unfamiliar perch on base, I expected Mr. Surdey to wink at my brothers and say something about the sun getting in his eyes. But he didn't. He just tossed the ball back to Jerry, clapped loudly, and returned to the bench.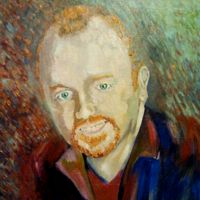 Latest posts by Tim Mollen
(see all)