The Pope's life in the Vatican is the envy of many, but he has his own fantasies.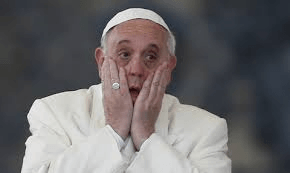 Are you an avid Hugh Hefner fan, someone who is inspired by his innovation and sexual prowess? Do you find yourself daydreaming of the Playboy mansion, sipping champagne as you mingle with all those beautiful bunnies? If so, perhaps you should pick up Celibacy Ain't a Dogma, It's a Bitch, the latest tell-all book courtesy of Pope Francis, available from Vatican Press.
In an excerpt from the riveting read, the Chosen One writes:
With a little help from Viagra, Hugh certainly knows how to live it up. Ever since I saw that Weezer video, getting an invite to the Playboy Mansion was always a dream of mine. Countless men and women dream of taking in the fleshy sights and lounging in that glorious pool, but I have actually done it, thank God.
Last year, Mr. Hefner sent the Pope an invite to attend a special screening of The Hunger Games: Catching Fire, one Francis gladly accepted. Sandwiched between Bill Maher and Fred Durst, the 77 year old seemed to enjoy himself, giving the movie a rather generous 8 out of 10, believing it did the book justice.
In one of the more notable lines from the Pope's masterpiece, Francis writes: "The Vatican has long considered Hugh to be a truly iconic figure worthy of sainthood." However, it still remains to be seen if the 88 year old magazine mogul will receive recognition from Rome.
Latest posts by John Glynn
(see all)