Baby dolls encourage girls to be promiscuous, says devout 'person' Hobby Lobby.
In a landmark decision, the U.S. Supreme Court has recently ruled that retailer Hobby Lobby is entitled to religious freedom, and can't be required to provide contraception coverage. According to Hobby Lobby, the ruling gives them and like-minded businesses the right to ban baby dolls in their stores.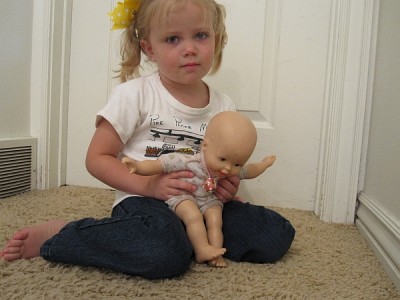 "We feel that baby dolls encourage little girls to be promiscuous," said a Hobby Lobby spokesperson who asked not to be identified. "Little girls can say, 'It's so cute having a baby doll. Why can't I have a real one?' Then they go out and have pre-marital sex! It's very disheartening."
The spokesperson said that Hobby Lobby will also quit selling materials to make baby dolls. "In no way, shape, or form, is Hobby Lobby — who is a devout 'person' — a hypocrite."
"We stand by our decision to ban baby dolls. Therefore, we will also quit selling the necessary materials in which to make baby dolls. We will replace those materials with tools on how to make your own Bible! Little girls can read what happens to women who choose to go against God while having fun in making their very own Bible!" the spokesperson told the Humor Times.
When asked if doing such a thing could rob a girl of her childhood, the spokesperson said, "Nonsense, in the Bible we know very well of Jesus' childhood, and look what a great man he turned out be! Besides, the Bible teaches us that women are to submit to men, and that's what we want to teach little girls."
This writer wanted to get more comments from Hobby Lobby management. However, I was told the answers I seek are in the Bible.