"Hey, you have to make your own fun in Canada," says Mayor Rob Ford
Toronto Mayor Rob Ford described the leaking of his online sex tape as "one of the most embarrassing moments I have experienced since leaving rehab."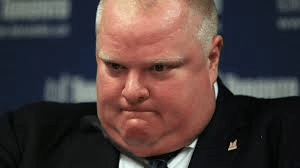 Considering he left rehab just days ago, this declaration underlines the anarchy in his life. Responding to media questions as he exited a local Denny's, the Canadian continued: "I feel like it's just an endless run of misfortune. Honestly, I did not know the encounter was being recorded."
The former triathlete told reporters that in April of this year, he had attended a buffet before inviting a group of friends — including rapper Lil Wayne and William Shatner — back to his Winnebago in the early hours.
Mr. Ford then told reporters how an attractive young woman followed them out of the restaurant and back to the campsite.
Wearing a wife beater, the photogenic politician admitted that he did indeed have sexual relations with this particular female. Embarrassed and visibly upset, Ford confessed: "She said I was cool, she brought crack, she brought pizza, what the hell was I supposed to do?"
Even though the sexual encounter with the anonymous beauty happened before he entered rehab, it certainly will not help Ford, a man who seeks re-election in October.
Before getting into his car, The 45 year old stated, "My commitment to living clean is unwavering, I just need a drink to clear my head, today has been crazy."
The following two tabs change content below.
John Glynn
John Glynn is an Irishman, a lover of Guinness and a potato connoisseur. An expert in the area of mediocrity, he one day hopes to own a decent coffee maker and visit SeaWorld Orlando.
Latest posts by John Glynn (see all)