Brazil hires team psychologist to cope with shock
With the thrashing at the hands of Germany, it is difficult not to feel that Brazil has reached the end of the road in terms of soccer superiority. After losing the semifinal, Luiz Felipe Scolari decided to hire a team psychologist to cope with the shock.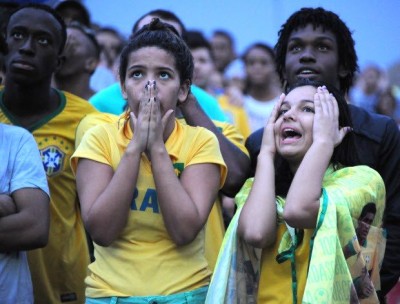 The professional counseling decision came after an onslaught of criticism by the domestic media, basically lambasting the team for such a shocking display. After the loss, some of the players cried uncontrollably, with both Paulinho and Maicon urinating themselves as the Germans danced efficiently, while Fred could be heard uttering, "Well, we are screwed now, I'm going home."
Brazilian pundits and former players have labelled the sobbing a sign of frailty, with the nation's president referring to the team as a "pack of pussies."
The president of the Brazilian Association of Sport Psychology, Jorge Ricardo Cozac, said the performance of the team and their manager made him "never want to samba dance  again."
Antero Cuerco, a leading columnist, wrote of his fears in Brazil's O Estado de S Paulo broadsheet: "I see a team that piss themselves in public, literally, I see nothing without Neymar. You can sprinkle glitter on dogshit, however, it is still dogshit." One can't help but think that the turd philosophy is a not so delicate reference to Hulk and Fred, both utterly farcical strikers.
The former Seleção captain Careca said the players looked incredibly nervous, even during the national anthem, long before the scoreboard displayed a 7-1 defeat. The retired player simply stated, "Grow a pair. A World Cup game on home soil is a time to stand up and be counted, it's a time to command respect. When the ref blows his whistle, you have to forget domestic problems, forget your wife, forget your mistress, forget the fact that Brazil failing to win this World Cup means an irreversible economic and social meltdown."
Sitting by his side was Brazil's Pele, a man synonymous with greatness. Dejectedly, with a tear in his eye, the iconic footballer whispered, "Apart from the day I agreed to do that advertisement for erectile dysfunction, this is the worst moment in my life."
Latest posts by John Glynn
(see all)