Daniel Day-Lewis gets a little too far into his roles
Like calling John Waters slightly camp, referring to Daniel Day-Lewis as a "method actor" is an understatement of epic proportions.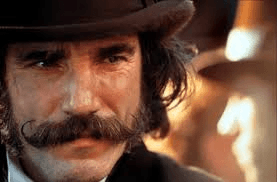 The Irishman won his third Best Actor Oscar for Lincoln, and is now about to undertake his most testing role to date. Yesterday, in an interview with the Hollywood Reporter, the soft spoken actor announced that he will play Silvio Belusconi in the Steven Spielberg inspired project.
Always prepared to go the extra distance, as when playing a womanizing brain surgeon in the Milan Kundera adaptation, The Unbearable Lightness Of Being, Day-Lewis taught himself Cantonese, although the entire film was in English. To help him prepare for his role in The Last Of The Mohicans, he learned how to roller-skate. Notably, in his initial Oscar-winning role, as the Irish artist Christy Brown, he spent a year eating nothing but raisin bran.
Displaying a neurotic and detached approach, like Eddie Murphy in Norbit, Daniel seems to possess a unique ability to disappear into roles. Similar to Berlusconi, Day-Lewis excels at adopting the role of pantomime styled villain, just observe his explicitly over-the-top performance as the thespian styled thug Bill The Butcher in Gangs Of New York, a role he prepared for by sleeping in a meat factory five nights a week for two years.
In spite of the many scandals that have plagued Berlusconi since he entered politics close to twenty years ago, the Italian is unquestionably one of life's survivors. After making his fortune from soft porn production in the 1970s, he expanded his artistic horizons by setting up a TV cable company, Eroticano, and sleeping with an 18-year-old aspiring model.
It's acceptable to compare Day-Lewis' portrayal of the ruthless oilman in There Will Be Blood with one of Italy's most notorious public figures, because both are brilliantly devious and both are sexually aroused by mass sums of money.
A lover of the ladies, Berlusconi famously had sex 13 times with an underage dancer nicknamed El Mahroug or "The Whore," and representatives for Day-Lewis confirmed that the actor is getting in character by 'interviewing' young beauties and conducting motel room-method acting sessions.
Without doubt, the actor's performance as Abe Lincoln was truly astonishing. His approach involved studying Alexander Gardner's American Civil War era photos of Lincoln while immersed in a tub full of baked beans. As he told the Reporter: "For 15 months, believe it or not, I looked at those photos for eight hours a day in the tub. You asked me earlier how my wife manages to put up with my antics. To be honest, I don't know and I don't care."
The Last of The Great Studs is due for release early 2015.
Latest posts by John Glynn
(see all)