A couple playoff losses, and things get crazy with the San Antonio Spurs
A massive brawl ensued at the Spurs practice facility Wednesday afternoon, involving players, coaching staff, and some members of the press. The police report released this morning described the scene as "an unsettling display of savage violence."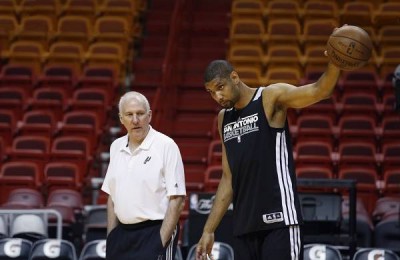 It is still unknown at this time how the scuffle began, but witnesses claim that each player fought for roughly the same amount of minutes. Two-time MVP Tim Duncan allegedly stood at the center of the chaos, as several first-hand accounts include him headbutting his teammate and friend Tony Parker, before grabbing Boris Diaw by the throat and 'chokeslamming' him. Others note hearing the "n-word" used frequently during the scuffle, but only from Argentinian shooting guard Manu Ginobili.
"It all happened so fast," said Richard Peterson of the San-Antonio Gazette, "I've covered the Spurs for years, and they've always been so polite. I've never seen anything like this."
Peterson later recalled 2014 Finals MVP Kawhi Leonard, sitting alone in the bleachers for the entirety of the incident, flipping through a coloring book.
"That was the most confusing part," Peterson continued "[Leonard] seemed so bored by the whole thing. Also, he was reading a coloring book. Like, he didn't have crayons or anything. I just don't get it."
After approximately 48 minutes, the altercation ended with legendary Spurs coach Gregg Popovich firing several rounds from a sawed-off shotgun toward the ceiling of the Spurs practice facility. The police have yet to take anyone into custody. Reports from the local San Antonio hospital claim that, miraculously, not one player was seriously injured. At the press conference following the quarrel, Popovich was asked if he had any comments on the matter.
"No," he said, "We're just focusing on our next game."
Latest posts by Joey Long
(see all)