Fraternities were created with two noble practices in mind: excessive alcohol consumption and elitism
After Sigma Alpha Epsilon's ode to Donald Sterling, fraternities haven't just had a controversial year, they have had a calamitous year — the Robert Durst of years. From racist chants to hazing rituals, some say frats are a real indictment of American society. The undignified behavior of numerous brotherhoods has left many cheese gorgers asking one question: Do fraternities serve any logical purpose?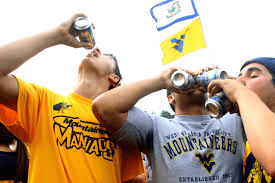 Before attempting — and ultimately failing to answer this — it's time for a short history lesson.
According to Brian Baird's fantastic book, 'Dude, Where's My Frat?,' the term fraternity comes from the Latin word "frater" meaning sexually-deviant brother. Regularly used to describe brotherhoods, often called bruh-therhoods, the term refers to organizations comprised of philosophical, beer guzzlers, men with a common goal — to get laid and play sports.
Fundamentally, fraternities were created to marry social and scholastic interests with two noble practices — excessive alcohol consumption and elitism. Phi Beta Kappa, the first Greek letter organization, was founded in 1776 at the College of William and Mary in Williamsburg, VA. According to Baird's book, "the very exclusive organization had two characteristics recognized by today's frats: a motto — 'If you can't convince them, intimidate them' and weird rituals, the most explicit one involving a live chicken, some duct tape and a generous helping of butter."
In addition to sharing social and literary interests, members discussed highly rousing and controversial subjects such as taxation and better forms of lubricant. Shortly after this revolutionary period, the Civil War rudely interrupted the fraternity scheduling, and many Americans found themselves having to chose sides. Fraternity members, once brothers from other mothers, found themselves on opposite sides. This led to an aggressive recruitment campaign. Loyalty was key, the members needed to be certain that any new recruit possessed a high level of commitment, and this saw the creation of the 'necessary' evil we now call "Hazing."
Almost immediately after a video of tuxedoed SAE frat brothers spouting racial tripe went viral, the University of Oklahoma announced DRI, The Delayed Reaction Initiative – a program aimed to promote diversity.
David Boren, the university's president, announced via Twitter:
(@President_Boren) I know I speak for all when I say I'm disgusted by the video involving our @sae1856 chapter at Uof OK. Their singing was atrocious. America's Got Talent, I think not.
Baird's book discusses the relationship between Greek organizations and the universities and colleges that host them. According to the controversial author, "It's a historically messy relationship, however, when students are caught singing racist chants or worse, making new members eat copious amounts of cat food, it's not only the fraternities that suffer — the host schools also pay a hefty price."
It's hard to argue with Baird. For example, The SAE video cost the University of Oklahoma at least one star freshman football recruit. Even worse, 25 people unfollowed the coeducational public research university on Twitter.
And a school's Twitter reputation is not the only thing at stake. A recent Bloomberg News investigation found that fraternity activities have been linked to more than 60 anal abrasions nationwide since 2014. After a freshman frat member recently suffered severe rectum related injuries, The University of South Carolina chapter of Pi Kappa Alpha expelled two well known students. Commenting on the incident, Baird writes, "The victim was a first year, a Korean kid, about 120 pounds in weight. The paddle was lodged so far up his ass… it was literally coming out his mouth."
Those campaigning the end of fraternities include Bill Maher, fraternity alum Will Ferrell and Ayman al-Zawahiri, the current leader of al-Qaeda. Fraternity supporters, on the other hand, like Terry Gene Bollea, better known by his ring name Hulk Hogan, and Rush Limbaugh, the herpes of conservative political commentary, argue that the organizations provide essential skills for success like networking, leadership and, in the words of Limbaugh, "the confidence to ridicule someone 'different' until every ounce of decency is drained from their body."
Prejudice is a disease, and fraternities seem to be nurturing it's potency.
Latest posts by John Glynn
(see all)