An exclusive pre-publication look at 'Insincerely Yours' by Brian Williams
People, are you ready for a treat?
Here's a first look at Brian Williams' new book Insincerely Yours, for readers ages 10-14, on sale Dec. 6th. You can read an exclusive excerpt below, available nowhere else!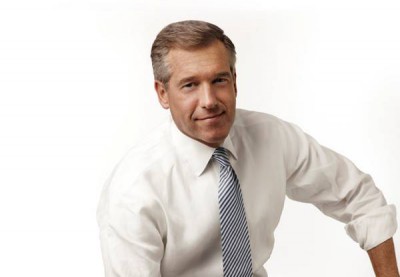 This is the first book in a new fictional series from the much discussed presenter. Two of Williams' books have already hit No. 1 on USA Today's Best-Selling Books list — Anchoring America and My Trip to Cambodia: Anchor What.
Says Williams: "This was supposed to be my autobiography, however, the recent scandal has pushed it into the realms of fiction. I've always been a fan of tall tales and myths, we're talking Thor, Loki, Odin and the other gods of Asgard."
Here's a description of Brian Williams' work from publisher Disney-Hyperion: "Brian has always been a troubled kid. Since his father's mysterious disappearance, he's lived alone on the streets of New Jersey, surviving by his wits, keeping one step ahead of the game, outfoxing gangs and corrupt officers. One day, he's approached by a man he's never met before — a man by the name of Stephen B. 'Steve' Burke, the CEO and President of NBC Universal. 'Come work for us at NBC News,' he says, before adding, 'we need you.' With nothing but his black belt in Jujitsu, Brian accepts the offer. Sometimes, the only way to be a man is to help another man…"
Exclusive excerpt from Chapter 3:
The Baghdad Brawl
Four men — faces carved from stone — entered the room. They strolled in careless and casual, joking and laughing loudly.
But one of them licked his lips and looked at me. Another, the largest of the four, had dangerous eyes, both showing white circles around the irises. He resembled Chewbacca.
"Are you ready for an ass pounding, Yankee boy?" asked the Wookiee warrior.
"Stop right there, you bastards," I barked.
They stopped as if they had been mounted on the same pair of legs, like something out of a Laurel and Hardy sketch.
I kicked my chair back and jumped to my feet, "let's dance."
The room was entirely too small, the odds were stacked against me. I had my Swiss army knife, true enough, and whatever weapons may have been distributed among these four brutes were out of sight.
But these animals were so close to me; and a Swiss army knife is not a thing of miracles, even if mine had a screwdriver and a nifty can opener.
If these men decided to attack me, I could power slam one of them before the other three wrestled me to the ground. However, the odds were stacked against me, I knew, and the Iraqi bastards knew it.
I was tired, 47 days of constant abuse will do that to a man, even a heroic, muscular man like Brian Williams. A new burning desire to be free overwhelmed me. "After all this time," I thought, "they still haven't discovered my Swiss army knife, they are nothing but amateurs."
"Put your hands up," I ordered, shaking the most functional multi-tool of the 90's, "don't make me use it."
None of them obeyed, they just sniggered rudely. One of the brutes shot me a sinister grin.
I was more or less stumped, if they had surrendered, I could have lined them up against the wall, and, with my expertise, snapped each of their necks in seconds.
But my plan hadn't worked, the four men advanced.
One of them produced a beautifully braided object, a bondage whip.
They meant business, I clenched my ass cheeks together and bit my lower lip.
Was Brian Williams about to become Bitch Williams? You'll have to read the book to find out. Available wherever fairy tales are sold.
Latest posts by John Glynn
(see all)