Bernie Sanders 'feeling the bern' of poor pizza slice distribution
Today, Democratic candidate and self-proclaimed socialist Bernie Sanders was "feeling the bern" of poor pizza slice distribution.
Sanders railed against the "top, elite pizza eaters running around with their third slice" and lamented the "tiny little, sad baby slices" of pizza that many in the 99 percent get stuck with.
The Humor Times has obtained this exclusive video of Bernie Sanders' passionate speech on the subject, from the folks over at After Dark on Youtube. Watch and share!
See more After Dark videos here, and enjoy all the Humor Times' funny videos, political humor videos, user-created videos and more on this website!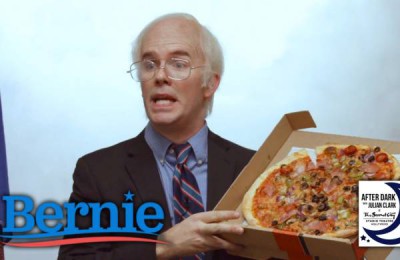 The following two tabs change content below.

The
Humor Times
is the "World's funniest news source!" Sure, we like to inform our visitors, but in a playful sort of way. We believe political satire is one of the best ways to help folks let down their defenses and see things in a new light, as well as to help bring haughty leaders back down to earth. Plus, it's just plain fun! The
Humor Times magazine
(delivered to your door 12x/year) is a great way to enjoy this brand of humor, it makes a wonderful gift, and
SUBSCRIPTIONS
are very affordable!

Latest posts by Humor Times (see all)