Having an important golf date to get to in Mar-a-Lago, president 'tweets-in' his so-called 'State of the Union' address.
Having an important golf date to get to in Mar-a-Lago, Trump decided to tweet his State of the Union address. When asked if it was appropriate for a President to skip the State of the Union, Trump replied, "I've got a country club to run, too. Can't be presidenting all the time. I've got Bannon for that."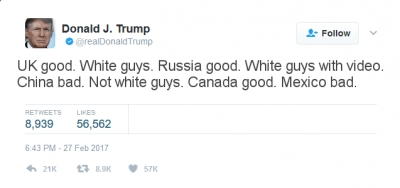 In his State of the Union tweets, Trump covered a broad range of topics, including the economy, his budget plans, and foreign policy. He also introduced what's being called the "White Guy Doctrine." Here are the President's SOTU tweets:
His introduction:
I won popular vote and won the Electoral College in a landslide! All former presidents SAD.

Why doesn't Twitter have a Rocky emoji?
The economy:
Secret Muslim Obama did BAD job. DUMB. I'm a smart person.

Will bring jobs back. Coal jobs. Auto jobs. Horse and buggy jobs. Who stole our horse and buggy jobs?!! China!!
Taxes:
Lots of tax cuts for the rich. Good for America. Raising taxes on lazy poor. #MAGA
Domestic spending:
No arts. No food stamps. No clean air. No weak liberal programs. Too expensive. Cost almost as much as a couple of B2 bombers.

Social security safe for my SMART old voters. Not for DUMB millennials. Don't like it? Move to Canada. #MAGA
Trump defines the White Guy Doctrine:
UK good. White guys. Russia good. White guys with video. China bad. Not white guys. Canada good. Mexico bad.

Ivanka sends kisses to Justin. I<3J

Kisses to Putin from you know who.
The wall:
Building wall. Mexicans will pay for it. We will not be questioned. (Got that from Stephen Miller. Love it.). Reminder to Mexico – we have tanks.
Immigration:
Non-white guys must go. Non-white guy citizen must go. No Muslims. Not white guys.
Military spending:
Lots and lots of B2 bombers. And tanks. Can you ever have too many tanks?
Introduces new hash tag:
Did you like #MAGA? New hash tag! #MAWA Make America White Again! We can do it!

Why doesn't Twitter have a tiny, orange fist pump emoji?
The following two tabs change content below.
Ron Keith
Ron Keith lives in Washington, DC. He freelances, mostly writing on renewable energy, technology, gaming, and anything else he feels a passion for. He plans to spend the Trump years in a fetal position and learning what an emolument is.
Latest posts by Ron Keith (see all)